[CinemaCon 2019] Disney Teases Their Fox Acquisition with New Dark Phoenix Footage, Previews Ford v. Ferrari
The Disney presentation at CinemaCon kicked off with a video that had all of the Disney and Fox properties mashed together. It was a little surreal to see Alien and Frozen in the same sizzle reel but Disney was very thankful towards everyone at Fox for all of the hard work they have done. They paid tribute to Fox Searchlight and previewed three movies that look interesting.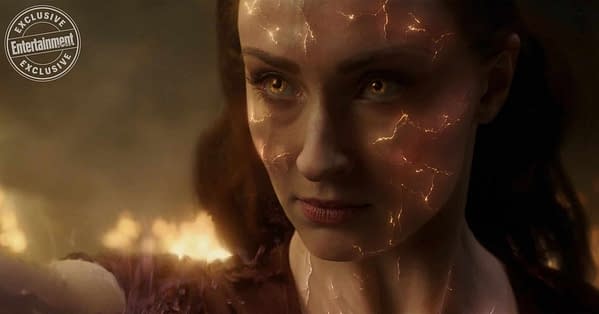 The first was Dark Phoenix which is being called "the perfect sendoff for our X-Men team". We got to see some new footage which included an extended look at the NASA rescue. We see Professor X telling NASA that they are on the way and the team trying to save the astronauts. We don't know how but Jean is left behind and we see her absorb the Phoenix Force. Scott tells her that everyone is calling her the Phoenix. We see some new footage of Jean interacting with Erik including a moment where he is standing before her with Jessica Chastain's character. Jean asks Erik if he's threatening her and he says "yes". She takes control of him and splits his helmet into three pieces. She tells him he shouldn't do that and throw him into a wall.
We see more footage from the big train sequence and Jean says "when I lose control bad things happen but it feels so good". In terms of trailers, it is the strongest by far and Disney/Fox should release it right now if they want to drum up more buzz for this movie. Dark Phoenix will be released on June 7th.
They showed us a trailer for the comedy Stubar which premiered at South by Southwest but it was the first look at James Mangold's new movie Ford v. Ferrari that took everyone by surprise. It is based on a true story and "of the battle between Ford and Ferrari to win Le Mans in 1966" [via IMDB]. The movie has an amazing cast including Matt Damon, Christian Bale, and Jon Bernthal. All of the scenes have a great style to them and the trailer ends with an executive getting into one of the prototype cars, Damon's character speeding around and showing off, and him literally being moved to tears. That is a movie that went from not on my radar at to "I need this now". President of Walt Disney Studios Motion Picture Production Sean Bailey walked out to do his part of the presentation and asked if he could have a screener for it. This is one to keep an eye on. Ford v. Ferrari will be released November 15th.