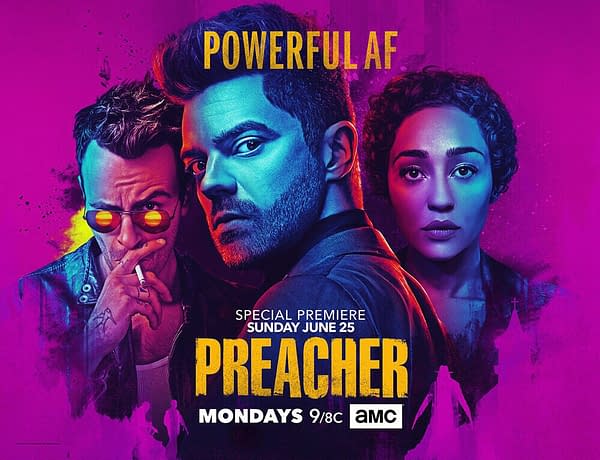 We got a new featurette for the second season of Preacher today, but AMC has also released a clip and a bunch of motion posters. The show is coming back in a week, and the clip is from the first episode.
We see Jesse (Dominic Cooper), Tulip (Ruth Negga), and Cassidy (Joseph Gilgun) sitting in the car as they talk about what lotion is made of (hint: nothing good, according to Cassidy). We also get a few motion posters for a few characters. This second season is looking like it's really planning on upping the ante as far as the celestial craziness goes.
Summary: After a supernatural event at his church, a preacher enlists the help of a vampire to find God.
Preacher was created by showrunners Sam Catlin, Evan Goldberg, and Seth Rogen and stars Dominic Cooper, Joseph Gilgun, Ruth Negga, Ian Colletti, and Graham McTavish. It will return to AMC on June 25th at 9:00 p.m. EST.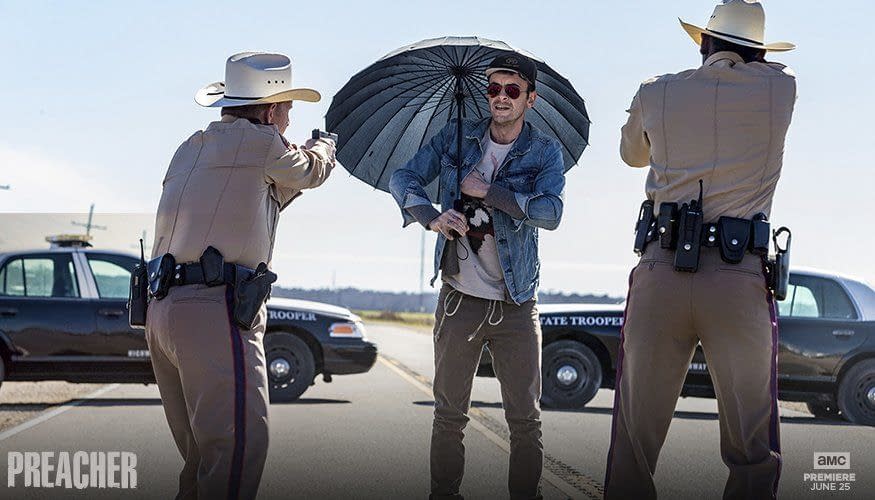 Steer clear of those crosses, mate. #Preacher pic.twitter.com/Ll3mnYGPFj

— PREACHER (@PreacherAMC) June 17, 2017
He's been through hell. #Preacher pic.twitter.com/sBleZncNtk

— PREACHER (@PreacherAMC) June 16, 2017
The Saint of Killers is always watching. #Preacher pic.twitter.com/hDtdOgAzNL

— PREACHER (@PreacherAMC) June 15, 2017
Enjoyed this article? Share it!