Danai Gurira Of 'Black Panther' Confirmed For 'Avengers: Infinity War'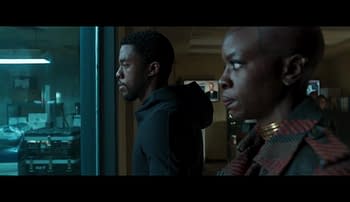 It looks like the world of Black Panther is coming to Avengers: Infinity War as well. The Russo Brothers recently posted a picture of them on set that looked like it could be a great backdrop to Wakanda we have another cast member making the jump to the huge team-up movie. Danai Gurira hasn't appeared onscreen yet but she's joining the cast of Avengers: Infinity War according to Deadline. Oddly Deadline cannot seem to confirm that she will be reprising the same role as she plays in Black Panther but to change it seems a little pointless.
Danai Gurira will be playing Okoye a member of the The Dora Milaje an elite group of femake Wakandian bodyguards. We had a brief appearance of these awesome ladies in the form of Ayo (Florence Kasumba) in Captain America: Civil War though she was not named as such in the movie. Avengers: Infinity War is the movie directing following Black Panther so it's not that surprising that elements of Black Panther are making their way into Avengers: Infinity War. This cast is huge with just the heroes when we get into side characters it's probably going to be enough people that it'll be hard to wrap our heads around.
As more and more people are confirmed for Avengers: Infinity War it become more apparent that giving this movie to the Russo brothers was an ingenious move on the part of Marvel. Not just because they've directed two of the better installments but because there's two of them.
Avengers: Infinity War will be directed by Anthony and Joe Russo and stars Robert Downey Jr., Josh Brolin, Mark Ruffalo, Tom Hiddleston, Chris Evans, Chris Hemsworth, Jeremy Renner, Chris Pratt, Elizabeth Olsen, Sebastian Stan, Benedict Cumberbatch, Paul Bettany, Samuel L. Jackson, Cobie Smulders, Benedict Wong, Zoe Saldana, Karen Gillan, Vin Diesel, Dave Bautista, Pom Klementieff, Scarlett Johansson, Tom Holland,, and Anthony Mackie. It will be released on May 4, 2018.