Dark Fae Vs the Humans in Maleficent: Mistress of Evil Teaser Trailer Shown at D23 – and New Gorgeous Image Released
Fans at D23 got a look at Maleficent: Mistress of Evil This followup to 2014's blockbuster live-action flick starring Angelina Jolie kicked off Disney's current run of live-action remakes, and this long-awaited sequel is on fire.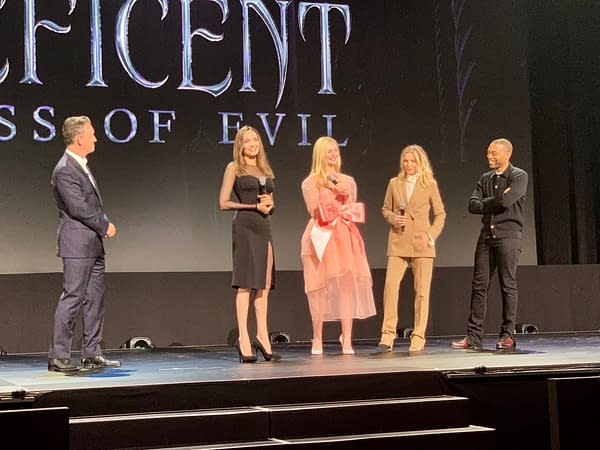 Angelina Jolie returned to the stage to say that she missed her and she likes playing Maleficent. In the last movie, they brought two enemies together and made them a family."What is family, what defines family, is what you believe in and what you stand for." We learn more about the "dark fae" – Maleficent's brethren.
Elle Fanning, Michelle Pfeiffer, and Chiwetel Ejiofor entered the stage, Elle is in a dress that looks quite literally like a Disney dress. Elle says that she has grown like Aurora has grown. She was 14 when they shot the first one and now she's 21.
Michelle says she was really excited to work with Elle and Angelina. She says there is a sense of belonging with actors but when you add women there is a sense of belonging. She says she loved the first one and was excited to work on this one. Chiwetel says it's wonderful to be here and he was thrilled to join in.
In the teaser shown, Aurora tells Maleficent that she is marrying Phillip and they argue about it. They go to meet Phillip's family. They serve birds which makes Diavel very uncomfortable. Ingrid is trying to get into Maleficent's head. Ingrid tells Maleficent that Aurora will finally have the love of a real mother. Then we got a new trailer that shows there is going to be a war between the Dark Fae and the humans
They also released a new image immediately evoking everything we need to know about this Sleeping Beauty retelling and also evoking the best of decades of Disney art. This adds to other images we've seen released this week as well as some other insight into the plot and character dynamics from director Joachim Rønning.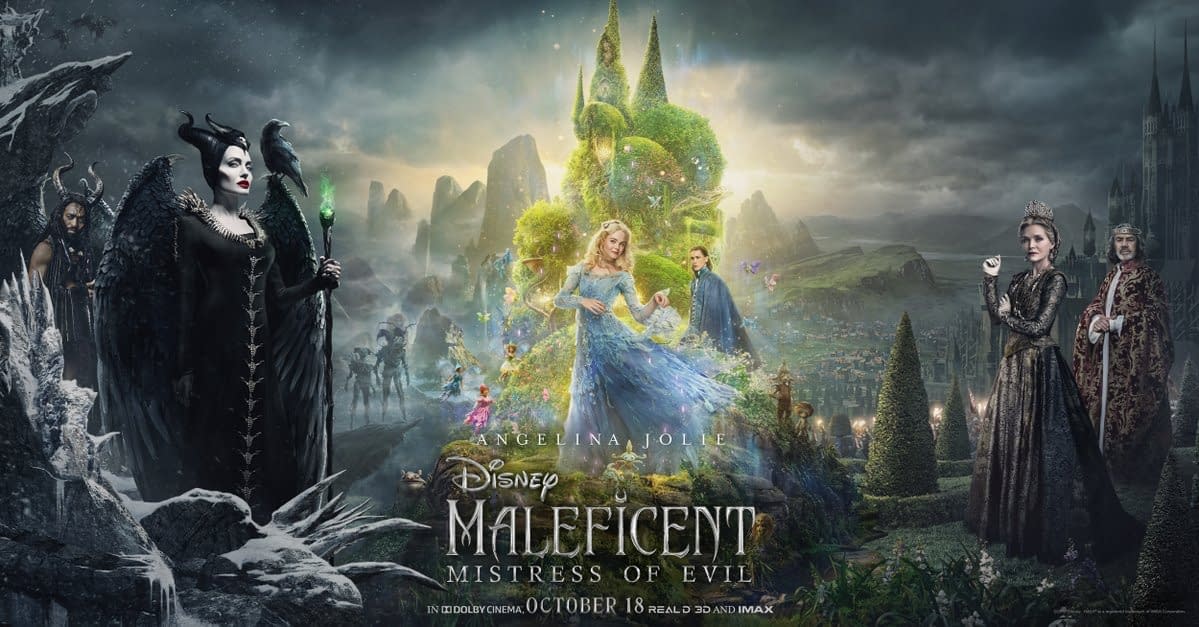 On the left, in all her magical glory, is the Mistress of Evil herself, complete with crow on shoulder and flanked by minions. On her left is Chiwetel Ejiofor as Connal, one of her head baddies.
On the right, also cast in shadow, Pfieffer as Queen Ingrith (Yassss Queen!!!) and her King John (Robert Lindsay). I love how they are just as much in darkness as Maleficent, which promises to again play with the morality of the story we think we know from Sleeping Beauty.
And in the middle we have Princess Aurora (Elle Fanning) and Prince Phillip (Harris Dickinson) bathed in green, ephemeral light. Everything is pure magic, including those three fairies flanking her.
But ultimately, this is going to be the story of the three women all displayed prominently in this image. One of the best things about Maleficent was its fresh take on the gender politics of fairy tales. The shift on the point of view gave such a beautiful new life to what was already is one of Disney's most recognizable characters. The "feud" element we can expect between Jolie and Pfieffer should be interesting. Here's hoping it never devolves into predictable tropes and maintains the previous film's feminist edge.
Maleficent: Mistress of Evil hits theaters October 18, just in time for Halloween. Parents? You may want to pre-order that costume for your kids right now, because if you wait until the movie comes out, it might be too late.