DC Fandome: Milstone Animated Film On The Way
DC Fandome is in full swing, and one of the centerpieces of the show so far was how far they plan on expanding out the Milestone universe. Part of the announcement is that there will be a Milestone animated film from writer Brandon Thomas. The film will star multiple Milestone characters such as Static Shock, Icon, and Hardware. The film comes from Warner Bros. Animation and Warner Bros. Home Entertainment. This is also a second film to feature Static Shock, who is also getting a live-action film as well, announced at the last DC fandome last year.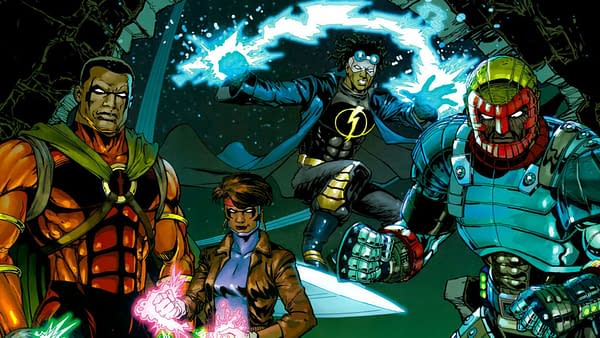 So Much Milestone! So Good To See
They are also launching The Milestone Initiative, to serve Black and other under-represented comic book creators, in partnership with Ally Bank. This was also a big announcement during the DC Fandome panel. "Do you have a story to tell? Do your experiences, imagination, and perspective go beyond the limits of what you see on TV, in movies, and in other media? If you live and breathe comics, and you're an emerging Black artist or writer —or a creator from an underrepresented group —we're looking for you to join The Milestone Initiative. The path to a sustainable creative career in this competitive industry will never be an easy one. You already know that —you've spent years honing your craft on your own. But with The Milestone Initiative, we hope to give you the support you need to make that hard work pay off. The next step starts here."
Hopefully, we can get the Milestone animated film sooner rather than later. Some of these characters could be huge, and it is awesome to see them join the animated DC family. More on this as we find it out for sure. And stick around BC all day for all the big DC Fandome news breaking out.