Disney Releases Teaser Poster for Guy Ritchie's 'Aladdin'
Next up on Disney's live-action remake slate is Guy Ritchie's take on Aladdin. Just today, the first look poster for the film was released (thanks Will Smith!), along with an expected release date.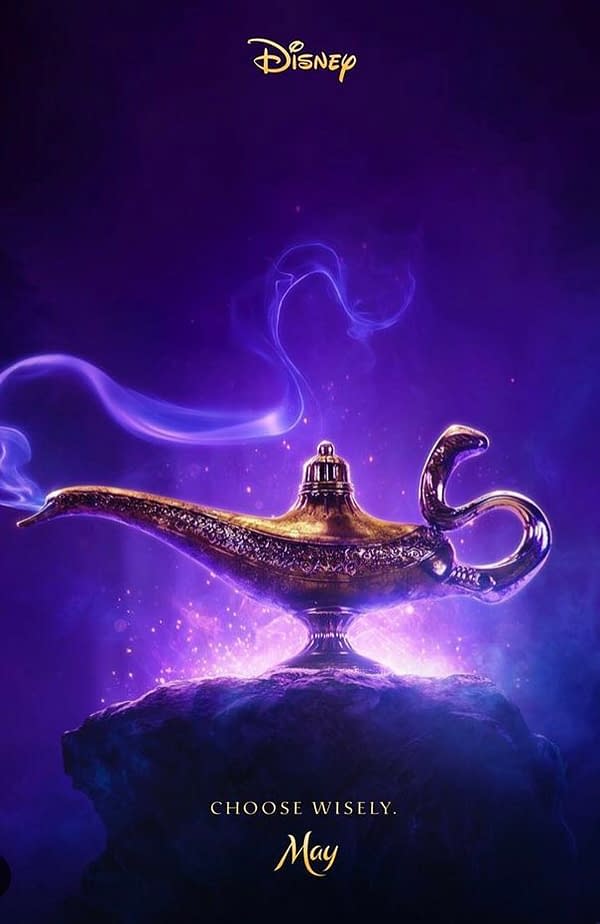 Mena Massoud will play the lovable street rat Aladdin, Naomi Scott will play the spirited Princess Jasmine, Marwan Kenzari will play villainous Jafar, and two-time Oscar nominee Will Smith (Ali, Men in Black) will play Genie.
David Negahban (Homeland) will play Jasmine's father the Sultan, the ruler of Agrabah who is eager to find a proper husband for his daughter. Nasim Pedrad (Saturday Night Live) will play new character Dalia, Princess Jasmine's hand maiden and confidante. Billy Magnussen (Into the Woods) will play Prince Anders, a suitor from Skanland and potential husband for Princess Jasmine. Numan Acar (Homeland) will play Hakim, Jafar's right-hand man and head of the palace guards.
No word on an Iago or Raja yet, and hopefully we'll get another spirited magic carpet to round out the characters. Directed by Guy Ritchie from a script written by Ritchie, John August and Vanessa Taylor, the Walt Disney Pictures-produced live action Aladdin is expected to hit theaters on May 24th, 2019.