Fangoria made its triumphant return in 2018, and it has been a great year plus of features and issues so far. I will never forget getting that return issue with Michael Myers on the cover and how much joy it brought me. The world is just better with Fangoria in it. Right now, you can vote in this year's Chainsaw Awards, celebrating the year that was in horror in 2019. Lots of great horror in 2019, although my vote goes to Doctor Sleep wherever it is nominated, but I am sure some of you disagree.
Check out the nominees below, and vote for your favorites here.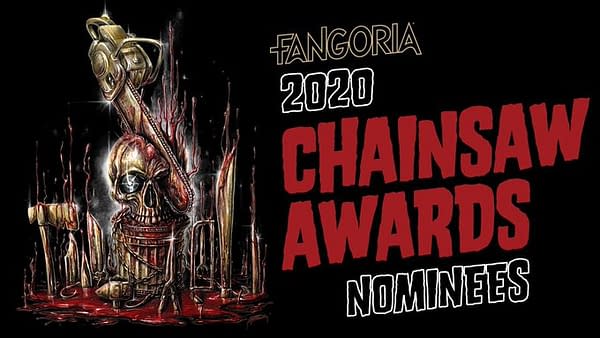 BEST WIDE RELEASE MOVIE
*
BEST LIMITED RELEASE MOVIE
*
BEST STREAMING PREMIERE MOVIE
*
BRAID, MITZI PEIRONE
DARLIN', POLLYANNA MCINTOSH
GIRL ON THE THIRD FLOOR, TRAVIS STEVENS
THE HOLE IN THE GROUND, LEE CRONIN
ARE YOU AFRAID OF THE DARK
LIEF EDLUND JOHANSSON, KOKO-DI KOKO DA
EWAN MCGREGOR, DOCTOR SLEEP
DANIEL DE OLIVERIA, THE NIGHTSHIFTER
ROBERT PATTINSON, THE LIGHTHOUSE
KIERSEY CLEMONS, SWEETHEART
SAMARA WEAVING, READY OR NOT
WILLEM DAFOE, THE LIGHTHOUSE
BILL HADER, IT CHAPTER TWO
JOHN LITHGOW, PET SEMATARY
JACKSON ROBERT SCOTT, THE PRODIGY
BEST SUPPORTING ACTRESS
*
KYLIEGH CURRAN, DOCTOR SLEEP
ZOEY DEUTCH, ZOMBIELAND: DOUBLE TAP
REBECCA FERGUSON, DOCTOR SLEEP
MARIANNE JEAN-BAPTISTE, IN FABRIC
RUBY MODINE, SATANIC PANIC
ROBERT EGGERS, THE LIGHTHOUSE
MIKE FLANAGAN, DOCTOR SLEEP
SHIN'ICHIRO UEDA, ONE CUT OF THE DEAD
GUY BUSICK AND RYAN MURPHY, READY OR NOT
MIKE FLANAGAN, DOCTOR SLEEP
GRADY HENDRIX, SATANIC PANIC (STORY BY HENDRIX AND TED GEOGHEGAN)
SHIN'ICHIRO UEDA, ONE CUT OF THE DEAD
CAVERN OF ANTI-MATTER, IN FABRIC
THE HAXAN CLOAK, MIDSOMMAR
MARK KORVEN, THE LIGHTHOUSE
THE NEWTON BROTHERS, DOCTOR SLEEP
BRITNEY FEDERLINE AND MARCELO A.M.P, THE NIGHTSHIFTER
MIKE MARINO, THE DEAD DON'T DIE
DAN MARTIN, GIRL ON THE THIRD FLOOR
JOSH AND SIERRA RUSSELL, BLISS
BRIAN SPEARS AND PETER GERNER, DEPRAVED
TODD MASTERS, CHILD'S PLAY
ADRIEN MOROT, THE LIGHTHOUSE
SPECTRAL MOTION, SCARY STORIES TO TELL IN THE DARK
Enjoyed this article? Share it!