The Kingsman movies sort of came out of nowhere. The first movie was released in 2014 and is one of the most perfect example of a movie and a studio being realistic. It shared the same release date as Fifty Shades of Grey and it was never going to beat that. So the movie came in second place but unlike Fifty Shades, which had a huge drop off in its second week, Kingsman remained in the top 3 for several weeks. The second movie did not do nearly as well critically but did do about the same at the box office.
Now we're getting a prequel and much like the original trailers for the first movie the first trailer for The King's Man seems to hide from any sense of humor. Does that mean this prequel is going to have a vastly different tone from the original two? Maybe but that kind of defeats the purpose. The first trailer and poster have been released.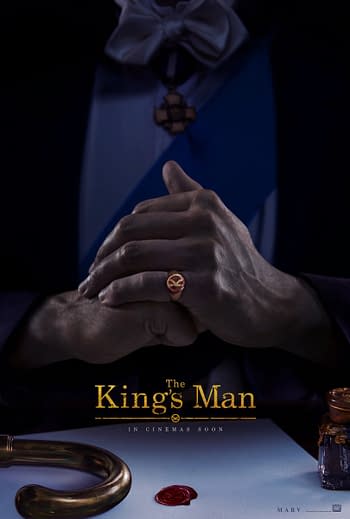 It's a little generic looking for now but maybe we'll get a better sense of what kind of movie we're in for when the release date gets a little closer.
As a collection of history's worst tyrants and criminal masterminds gather to plot a war to wipe out millions, one man must race against time to stop them.
The King's Man, directed by Matthew Vaughn, stars Ralph Fiennes, Matthew Goode, Harris Dickinson, Djimon Hounsou, Gemma Arterton, and Aaron Taylor-Johnson. It will be released on February 14, 2020.
Enjoyed this article? Share it!