The Flash Season 4, Episode 21 Recap: Harry and the Harrisons
This article contains spoilers for The Flash season 4, episode 21, 'Harry and the Harrisons'.
.
.
.
.
.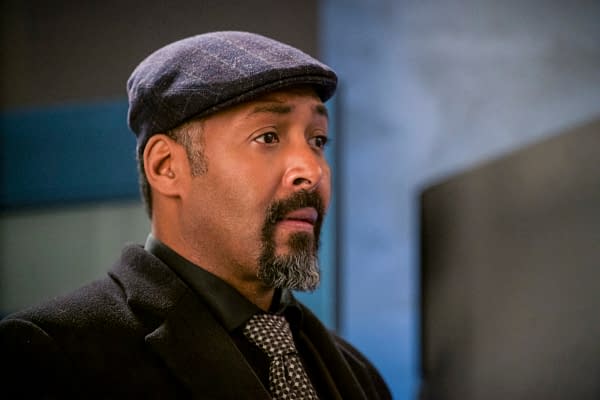 I decided to go with a picture of Joe West (Jesse L. Martin) because he isn't getting the amount of screen time he should be this season, but he is still one of the best things about the show. That said, we move into looking at the 21st episode of season 4 and we start off with Barry (Grant Gustin) waking up to a loud noise and finding Iris (Candice Patton) on the floor in the living room putting together an article about DeVoe (Neil Sandilands). Barry isn't sure about her posting it and telling everyone in the world that there is a madman trying to make everyone massively less intelligent. This pops up a few times in the episode and Barry tells her that they usually keep this kind of stuff quiet and he's not sure she should post the story. Iris thinks people should know. Her reporter side is coming back out after all this time.
Eventually she leaves it up to him to decide and by the end of the episode he tells her to go ahead and post it. We end the episode with her seeing people responding to her article and saying where they've seen DeVoe. Barry comments how he can't hide anymore if the whole city is looking for him.
The rest of the episode is focus on two things, and we'll look at them separately instead of jumping around as the episode does. Cisco (Carlos Valdes) is continuing to try to help Harry (Tom Cavanagh) restore his intelligence, and he says they're consulting every scientist they know. Harry suggests asking the Council of Wells for help, but when they do, Herr Wells laughs at him and refuses.
Harry is frustrated, but Cisco decides to call up another group of Harrisons to help out — a group that got kicked out of the other council. Here we get a return of the Matthew McConaughey version of Wells, along with a Sopranos version and a stereotypical French version who reads poetry before they start. The McConaughey version got kicked out for taking to many sex breaks during meetings. They do nothing to help his brain, but they do focus on his heart — and they seem to have some effect as they get him to start thinking about how people feel. Harry realizes he needs to think like DeVoe and figures out why the Thinker hadn't attacked yet because he lost what motivated him: his wife.
The main focus of the episode is Caitlin (Danielle Panabaker), who suggests they get Amunet Black (Katee Sackhoff) to help them stop DeVoe. The idea being she could use her metal shards to take out the satellites once they're launched where any missiles or tech would be useless because DeVoe has Kilg%re's powers too. Caitlin is also counting on getting a device that Amunet used on her before to help her bring back Killer Frost.
They have to track down Amunet, as she'd gone underground where even Norvok (Mark Sweatman) didn't know where she was. They find her running an underground casino and get her to promise to help, but they need to get her big stash of metal, which has been stolen, along with the device Caitlin wants. They figure out it was Norvok who stole it and can't find him anywhere at that point. Caitlin gets upset, thinking her last chance to get Frost back is gone, but Amunet tells her that the device did nothing — it was a placebo, and it was Caitlin all along who found the way to control Frost.
This leads Amunet to realizing where Norvok is, and they go there where he is selling her stash of metal in the back of a nice-looking El Camino. They stop the sale, Joe and Caitlin stop the buyers by working together and Caitlin using the ice gun. Flash tries to stop Norvok and keep Amunet from killing him, but get hit with toxic venom for his trouble. Barry phases through the venom and Amunet doesn't kill Norvok, but she does cut off the snake thing that comes out of his eye socket.
Amunet had no intention of helping the team — she just wanted her metal back. But realizing that if DeVoe succeeds, she'll be affected to, she gives them a chunk of the metal filled with her energies that they can pull one of the shards and toss like a grenade. She then leaves in a large whirlwind of metal. Team Flash doesn't get a new ally, but they do get a potential weapon for when the time is right.
The Verdict
Sackhoff is obviously having fun playing Amunet, and it brings a lot of lightheartedness to the episode in the same way Wentworth Miller did a few weeks back. For that I liked the episode even if it felt like the moved the main story along just barely. There were two big, glaring problems, and they both involved the Barry / Iris debate over the article. The first had to do with Barry's argument against posting it. He didn't give one, when the obvious reason not to was that it would cause a panic. But Barry kept meandering around that point. The second thing is the line about how DeVoe can't hide anymore… so the guy who can shapeshift into anybody he wants and has access to pocket dimensions can't hide anymore because you shared the picture of his original look? That seems like a completely ridiculous statement, and that is what I've been thinking about since the episode ended… I'm pretty sure that's not what the writers wanted fans to be thinking after.
What's Next
There are only two episodes left in the season and so many things to wrap up. Will Harry get his brain fixed? Will they stop DeVoe? Will we get Ralph Dibny back? When will Cecile have her baby? Who is the mysterious girl? And we're supposed to get hints for the season 5 big bad. That's lots to do in two episodes.
https://youtu.be/u6MeNB2LYDc