Guardians of the Galaxy Director Vows to Resist Donald Trump Until His "Corrupt, Lying @#$ is Gone"
The Twitter war between President Donald Trump and Guardians of the Galaxy director James Gunn continued Sunday when Gunn took to Twitter to respond to one of the president's tweets. Trump sent out a tweet telling his political opponents not to resist (typical democracy stuff), promising that if Democrats agree to strengthen the border (presumably by giving Trump money to build his wall), it will end crime.
Democrats, fix the laws. Don't RESIST. We are doing a far better job than Bush and Obama, but we need strength and security at the Border! Cannot accept all of the people trying to break into our Country. Strong Borders, No Crime!

— Donald J. Trump (@realDonaldTrump) June 24, 2018
Gunn quickly responded, telling the President: no deal!
Is "don't resist" what you said to the 21 women who accused you of sexual assault? Or the wife who accused you, under oath, in a court of law, with two people who corroborated her story, of violently raping her? (Only changing her story after you Stormy-Daniels style paid her?)

— James Gunn (@JamesGunn) June 24, 2018
Gunn then retweeted his own tweet for emphasis and added:
"Don't resist" – Donald Trump

(Thanks, but I think I'll abstain from abstaining and RESIST LIKE HELL until your corrupt, lying ass is gone.) https://t.co/Z43i6XelXM

— James Gunn (@JamesGunn) June 24, 2018
Gunn is experienced at resisting Trump. Gunn recently said that it's not impossible the president murdered his wife, and has said that he doesn't care if he loses fans for criticizing the Trump on Twitter every day. Since Trump was elected, he's been the subject of more of Gunn's tweets than any other topic: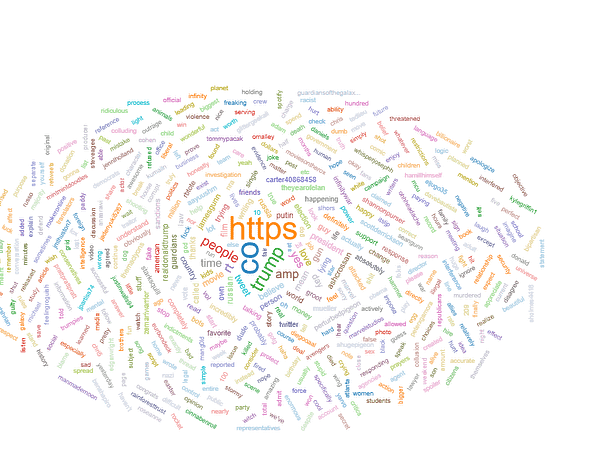 Of course, though Gunn resists on social media, and that could cause some hardcore Trump supporters to avoid Gunn's Guardians of the Galaxy films, so far, it hasn't seemed to have much effect, as Marvel's box office is bigger than ever. In fact, avoiding Gunn's movies might actually turn out to hurt Trump more than supporting them. Marvel Chairman Ike Perlmutter is a friend and major supporter of Trump who donated millions to his campaign and continues to support the president financially and as an unofficial advisor. Though Perlmutter is no longer in charge of Marvel's movie division, he is one of the largest individual shareholders of parent company Disney. The success of Marvel's movies, or any of Disney's movies for that matter, means more money for Perlmutter. More money for Perlmutter means more money for Trump.
Perhaps that's why James Gunn must ramp up his Trump resistance online, to counteract all of that. Whatever the case, according to Gunn, we can look forward to no shortage of clickbait articles on slow news days about his tweets about Donald Trump. And that's a policy everyone in the entertainment "journalism" industry can definitely agree on.