Hellboy: Mike Mignola on 17 Years Since Guillermo Del Toro Adaptation
It's hard to fathom how far along comic book films came in the past 20 years. One of the most brilliant adaptations was 2004's Hellboy, thanks to the minds of creator Mike Mignola, director Guillermo Del Toro, and star Ron Perlman, who's able to bring Big Red to the big screen. The comic creator took to Twitter to mark the occasion.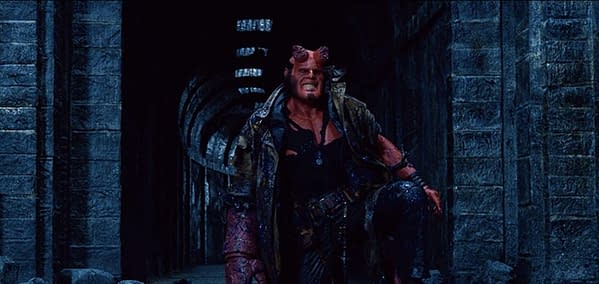 "So, 17 years ago–The first HELLBOY movie. There are people out there reading the comic that don't remember a time when there was no Hellboy movie," Mignola wrote. "That's crazy. It was a hell of an adventure. Thank You to the great @RealGDT for fighting to get this thing made. It was not easy." The film follows a demon rescued from Nazis raised by a secret government organization to battle the supernatural forces of evil. Joining him is Liz Sherman (Selma Blair), who has the ability to conjure fire and it to her will; Abe Sapien (Doug Jones, voiced by David Hyde Pierce), an amphibious humanoid with psychic abilities; and John Myers (Rupert Evans), a human caught in the middle acting as Hellboy's "handler."
The 2004 film was a box office success garnering $99.8 million at the box office for Sony. The 2008 film made significantly more at $168.3 million for Universal Pictures despite mixed reception. Unfortunately, as the third Del Toro film never got off the ground, the 2019 ill-fated Hellboy reboot was made for Lionsgate with Neil Marshall taking over as director with Andrew Crosby and Mignola himself on the script. David Harbor took over the role from Perlman and co-starred Milla Jovovich, Ian McShane, Sasha Lane, Daniel Dae Kim, and Thomas Haden Church. Harbor defended the film, feeling that it was unfairly maligned with other bigger studio counterparts like Marvel and Warner Bros' DC Universe. Jovovich felt that the film would age better as a cult classic.