Horror Film The Lodge Comes To Hulu, Blu-ray, Digital May 5th
The Lodge had its theatrical run cut short as most films did, and it is now coming home sooner than we thought as well. The acclaimed horror film will come to Blu-ray, digital, and streaming on Hulu on May 5th. Hulu is quickly becoming the go-to place for finding a streaming audience, as Parasite has also debuted on Hulu to record numbers. The Lodge release will not have much in the way of special features, including only the trailers for the film, and that is it. You can check out the cover for the release below.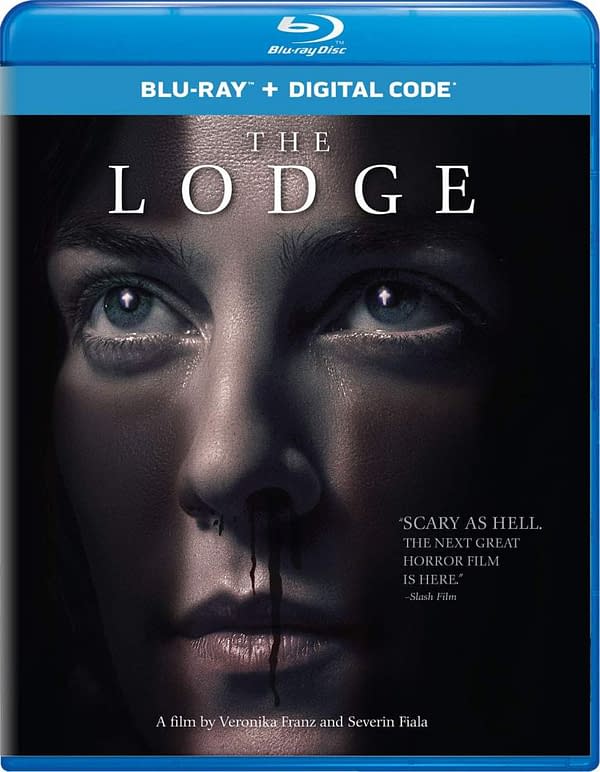 The Lodge Synopsis and Trailer
"A bone-chilling nightmare from the directors of Goodnight Mommy, The Lodge follows a family who retreat to their remote winter cabin over the holidays. When the father (Richard Armitage) is forced to abruptly depart for work, he leaves his children, Aidan (IT's Jaeden Martell) and Mia (Lia McHugh) in the care of his new girlfriend, Grace (Riley Keough). Isolated and alone, a blizzard traps them inside the lodge as terrifying events summon specters from Grace's dark past."
If you haven't seen this film yet, you should seek it out. I thought that Hereditary made me squirm, The Lodge just bombards you with a feeling of dread for basically its entire runtime. I think I sat there silent for almost a full five minutes when the credits were over before I remembered that I had to leave. I quickly walked out of the theater when I realized I was alone. Riley Keough and the kids are so great, and the story is tight and quick-moving. I loved it. If you have not seen it, here is the trailer.
This new trend of "uncomfortable" horror is both a welcome trend and filling me with all kinds of dread. Something about cults and the way they get people to buy into their message is deeply unsettling to me, and Franz and Fiala stroke these fears in an expert manner in this film. See for yourself when The Lodge hits various forms of home viewing options on May 5th.