Freddie Prinze Jr. Shares I Know What You Did Last Summer Hardships
One of the irreplaceable stars of I Know What You Did Last Summer is opening up about the director's bully-like behavior.
---
Anytime you hear about the less than positive behind-the-scenes details of filmmaking, there are often unfortunate workplace circumstances, an abuse of power from higher-ups, and overall bad energy on set, which (obviously) can tarnish the entire job for an actor or crew member on a project. In the case of the iconic Freddie Prinze Jr., the refreshingly honest actor has openly discussed his qualms with the business, which now includes some harsh realities about the horror classic, I Know What You Did Last Summer – and one director's totally uncalled-for approach to filmmaking.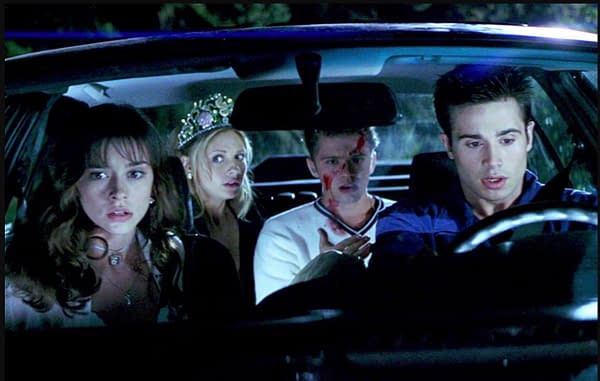 During an interview with TooFab, Prinze was asked about the horror film after news broke that there's interest in having the actor and original star Jennifer Love Hewitt return for another installment. The actor explains his experiences with director Jim Gillespie and notes, "It's not that we weren't on the same page; I knew what the correct choices were for the Ray character. He wanted a different actor, a really good actor named Jeremy Sisto, who I know and I like and respect very, very much." He then elaborates, "There was no passive aggressiveness — which I hate — he was very direct in the fact that, 'I don't want you in this movie. So when that's your first job, and you hear those words, it just wrecks you, man. It just wrecks you."
I Know What You Did Last Summer's Director Who Couldn't Direct…
Prinze later detailed some of the specific negative exchanges, telling the publication, "So, when I did have those moments where the director was giving me psychotic notes, like 'Don't leave your mouth open. You look stupid when you do that' — that was the exact note, word for word, I'll never forget it — and I'm like, I'm either gonna break down, or I have to beat this guy's ass. Like those were the only two options in my head, I remember [Ryan Phillippe] came up to me and was like, 'Screw that guy, man. How many times did you audition for this movie?' and I go, 'Five times,' he goes, 'Yeah, you earned it. You didn't get offered the role; you earned it. There were less people every single time you went, and then it was just you. Remember what booked you this role. Screw his notes. Any note he gives you, just say, 'Okay, and do what you want to do.' He was the first person to say that to me."
With the new film looking to get Prinze back on board for I Know What You Did Last Summer (as they should), there obviously needs to be a massive overhaul in how the next installment is approached. After all, who can't appreciate the actor's no-nonsense attitude toward industry abusers? Let's make it happen!