One of Jane Fonda's Barbarella Rifles Sold for $220,000 at Auction
We told you yesterday about the four-day Profiles In History auction happening, and day two kicked off this morning. The high ticket item from the early part of the bidding was a surprise: one of the signature space rifles from Barbarella.
The smaller of two rifles being sold that were used by Jane Fonda's character in the 1968 space flick went for the incredible sum of $220,000 (US), with an expected opening price of around $15,000-$20,000.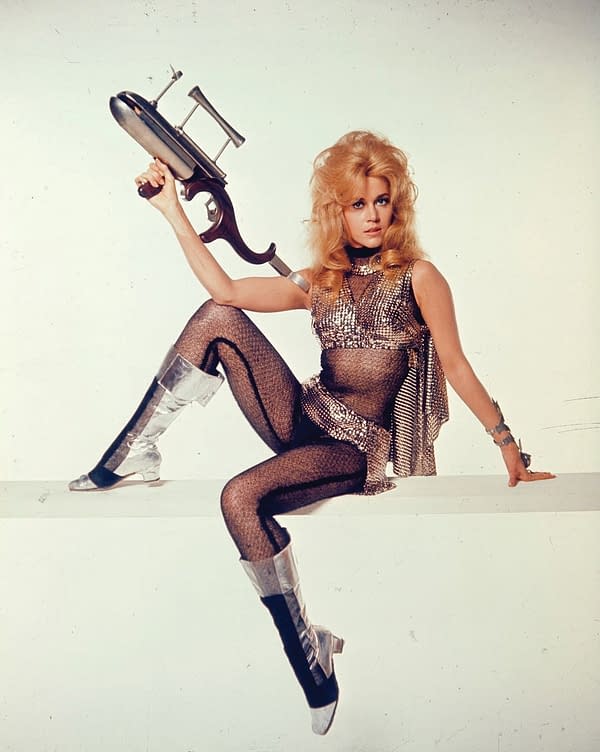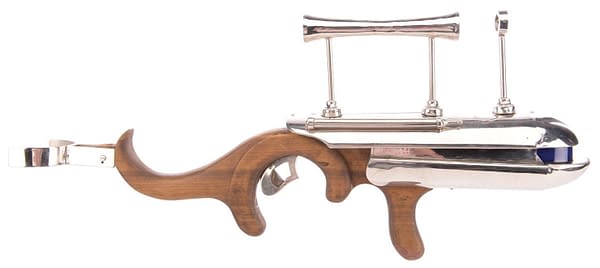 Listing for lot 611: a vintage original futuristic rifle constructed of chrome metal and lathed natural grain wood. The rifle, emblematic of the film's cheeky chic, features a suggestively shaped split barrel with chrome sight tube and separate crosshair ring, wooden pistol grip, recessed button trigger with metal guard, and semi-circular metal stabilization cuff at butt that rests on the user's arm. Exhibiting age and production wear. In vintage very good condition. Provenance: E. Rancati, Italy.
The other rifle, the long one, went for $70,000.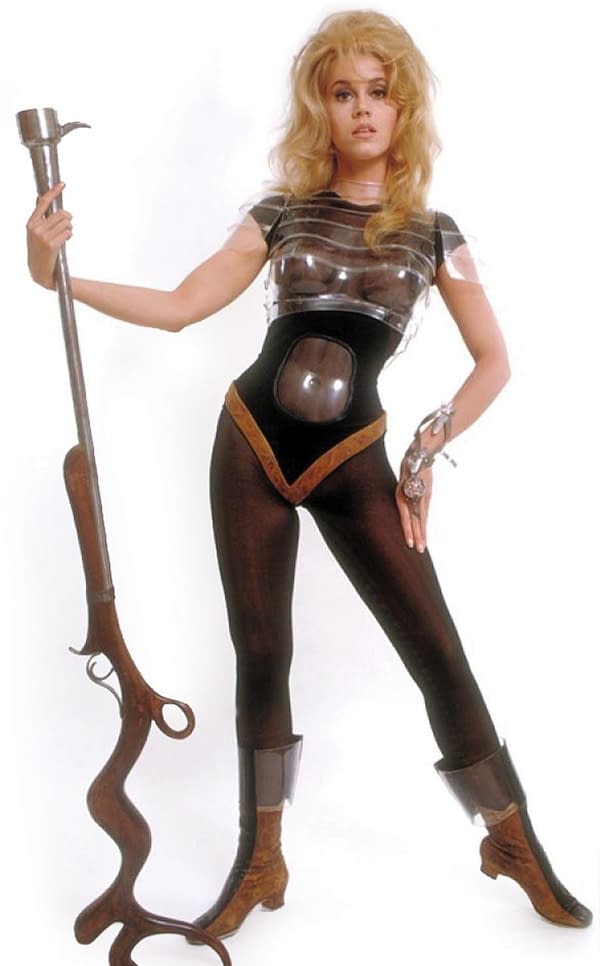 Lot 612: Jane Fonda "Barbarella" space rifle from the 1968 Life Magazine cover feature on Barbarella. (Paramount, 1968) Capturing the zeitgeist of the 1960s like no other, director Roger Vadim's provocative Sci-Fi sex farce married the transformative politics of the Sexual Revolution with ultra Mod Space Age fashion. Its lead, Jane Fonda, was launched to superstardom, becoming the era's definitive radical chic sex symbol. This is the iconic space rifle featured on the cover of the March 29, 1968 issue of Life Magazine that announced Barbarella to the world. Featuring an undulating, stylized stock of dark brown wood with elongated trigger guard and hooked trigger. The large bore, blunderbuss-style barrel is secured to the stock with wrapped metal wire. Measuring 59.75 in. long. A protrusion at the bottom of the stock was broken off, and the remainder sanded down. Exhibiting some oxidation to barrel and nicks, scrapes and small cracks to stock. Otherwise, in vintage very good condition. Provenance: E. Rancati, Italy. $20,000 – $30,000
The Icons & Legends of Hollywood auction continues today with some Star Wars items that are sure to break records. We'll keep you appraised. (Ha, see what we did there?)