Jurassic World: Dominion – Sam Neill Promises Meaningful Appearances
One of the most underwhelming aspects of Jurassic World: Fallen Kingdom (2018) was the appearance or lack thereof from Jeff Goldblum, who reprised his role as Dr. Ian Malcolm. All his scenes took place at a hearing almost regurgitating word-for-word his misgivings he had when John Hammond (Richard Attenborough) opened his attraction Jurassic Park but applying to the updated Jurassic World. In for only a handful of minutes, it was tantamount to a glorified cameo. According to Sam Neill, one of the three stars of Jurassic Park (1993), who reprises his role as Dr. Alan Grant, that will not be the case in the upcoming sequel Jurassic World: Dominion. While promoting his upcoming film Ride Like a Girl, the actor talked with Yahoo Movies UK about what his and co-stars Goldblum and Laura Dern's return will be more involved than a cameo. Dern played paleontologist Dr. Ellie Sattler in the 1993 Steven Spielberg film.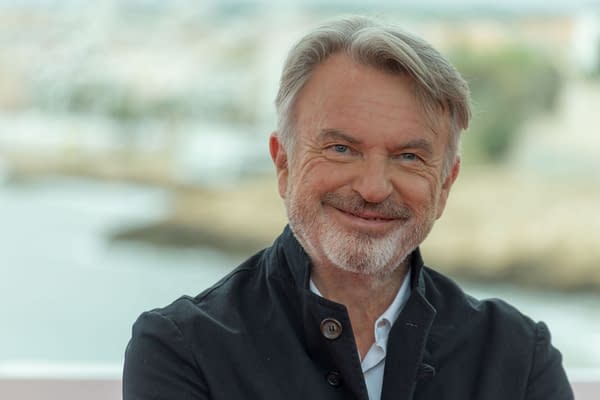 "We're all the way through the film, Jeff [Goldblum], and me, and Laura [Dern]," Neill said. "[I] probably won't be running quite as fast as I was 27 years ago!" Neill returned to the role in 2001's Jurassic Park III with Dern in a cameo. Goldblum starred in the second film of the franchise in 1997's The Lost World: Jurassic Park opposite Julianne Moore. Director-writer Colin Trevorrow reinvigorated the franchise with Jurassic World in 2015 behind stars Chris Pratt and Bryce Dallas Howard to front the new trilogy. Pratt and Howard play dino trainer Owen Grady and park manager Claire Dearing, respectively. The two join the Park core trio for Dominion when filming resumes with updated health and safety guidelines following the COVID-19 quarantine, which began on March 13th, 2020. The delay pushed the Universal film's release to June 11th, 2021. Neill said he remained hopeful to re-join production around July 11th. "We're all going to be living in the same joint for three or four months, so that's going to be fun," he said. "And everybody loves Chris and Bryce as well, so I think we'll be a very happy bunch."