Jurassic World: Dominion – Sam Neill "Excited" Production is Resuming
It's been a long 27 years since Sam Neill, Laura Dern, and Jeff Goldblum last shared the screen together for Steven Spielberg's Jurassic Park (1993). Since director Colin Trevorrow's announcement for the Park reunion for the sixth film of the franchise in Jurassic World: Dominion, anticipation continues to mount despite the delay due to the COVID-19 quarantine. Neill spoke with the UK's This Morning (H/T via The Daily Mail) about returning to the set as the film is among the first to return to production. "We are about to begin again," Neill said. "I should be in the UK all things being equal in a couple of weeks – at Pinewood working under very strict protocols. We'll be breaking new ground; in fact, we are the first big film to get back into production, and it's going to be very interesting to see the process. 'I am very excited about it… it's going to be a terrific film!" The actor joked his costars will also have to do their diligence, keeping up with the new safety protocols with their 100+ page guide to COVID-19. "I'm very much looking forward to meeting my old friends again," he continued. "We've gotten Laura to do the homework!"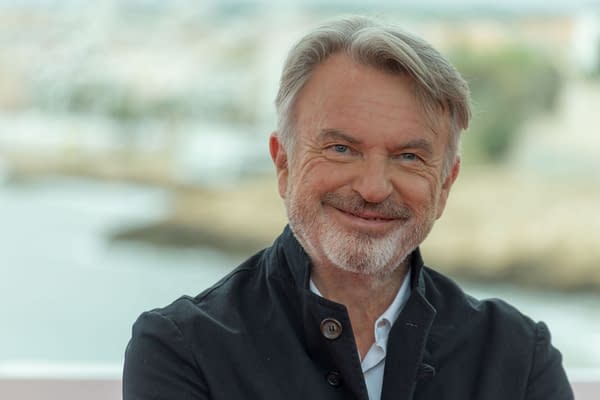 Neill returned to star in Jurassic Park III (2001) with Dern having a small cameo at the beginning of the film. Goldblum starred in the second film The Lost World: Jurassic Park (1997) opposite Julianne Moore. He reprised the role for the fifth film, Jurassic World: Fallen Kingdom (2018). The franchise has a combined worldwide gross of $5 billion. Of all the films, only Lost World and Jurassic Park III failed to break the $1 billion mark. When Trevorrow brought back the franchise in 2015 as Jurassic World with stars Chris Pratt and Bryce Dallas Howard leading the way, it set a new record making $1.67 billion, breaking the 1993 film's record at $1.05 billion. The Jurassic franchise currently ranks ninth all-time in box office gross.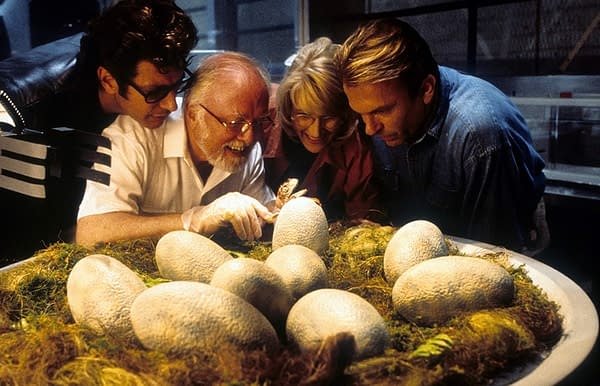 Pratt and Howard return for their third film to join the original 1993 core trio. Also returning is BD Wong, who's making his fourth appearance as Dr. Henry Wu, the scientist who initially worked with John Hammond (Richard Attenborough) in the 1993 film and had a part in genetically engineering the new dinosaurs in the World films. Another character returning from Jurassic Park is Lewis Dodgson. He's the contact, who paid IT programmer Dennis Nedry (Wayne Knight) to steal dinosaur embryos for rival company Biosyn. Initially played by Cameron Thor in the 1993 film, Campbell Scott takes over the role for Dominion. Creatively, Derek Connolly returns to co-write with Trevorrow as he did in the previous two films. Joining them is Emily Carmichael (Pacific Rim: Uprising). Jurassic World: Dominion is tentatively scheduled for release on June 21, 2021.