Jurassic World: Dominion the 1st Major Production to Resume in the UK
When it comes to major productions in a post-COVID world we haven't seen what studios are planning on doing just yet. Hollywood is eager to get things moving again now that restrictions are starting to come down and one of the first major productions that are going to return in the United Kingdom is Jurassic World: Dominion. Deadline reports that Universal Pictures has decided to start shooting the blockbuster sometime in the "early-mid July". The movie was initially shut down in March due to the COVID-19 pandemic and the kind of restrictions that Universal is putting on the cast and crew is going to help define whether or not some aspects of Hollywood can start to return to normal.
"Anyone with symptoms will be isolated immediately before being sent home," the Universal production executive told us. "We want to make sure that we are going above and beyond the national protocols to create a safe environment. Cost isn't our main concern now: it's safety. We will take direction from our medical team, but we're confident that with the staggered scheduling and zones of talent and crew, along with a system of contact tracing, we can move forward with limited delay in production."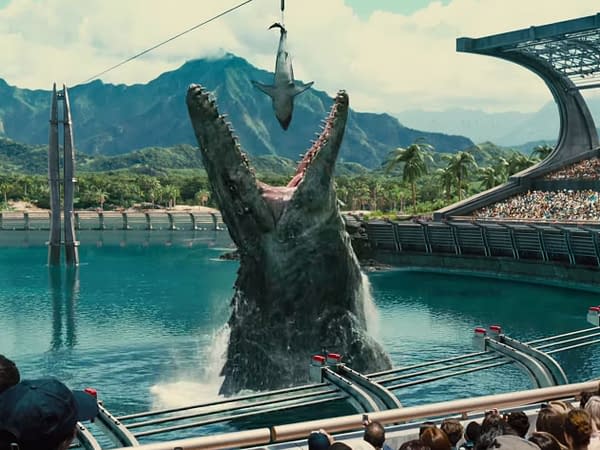 Universal released an extensive list of precautions they are planning on taking when it comes to keeping people as safe and healthy as possible but whether or not it's going to be enough is very much up in the air. The infection rates seem to be on the rise since countries started letting people get back to their normal lives and there's a good chance that we're going to hit round two of this stuff sooner rather than later. We still have two weeks to a month before this production would even get off of the ground and a lot can change between now and then. If Universal manages to get shooting again this movie will likely make its June 2021 release date. If not? Well, we can assume a new release date is in the cards. Here is the complete list of precautions that Universal is planning on implementing on set.
The commission of a private medical facility called Your Doctor to manage the entire production's medical requirements. This will include Covid-19, fever and antibody testing but they will also review all hand sanitizer, social distancing measures, updates to government and best practice guidelines. Your Doctor will continually update the production's safety measures as the science and environment changes and will be available for cast consultations to review health and safety concerns.
The studio has commissioned Your Doctor to test all crew before they start on the production. They will then test the crew at times throughout production. The whole crew will also be antibody tested. Thousands of tests are expected to be carried out over the shoot period.
All crew will be temperature tested every day and not allowed on site until complete. Two walk-through temperature testing stations are being built at each end of Pinewood Studios with capacity of 1,000 crew over 2 hours. Each test station will have a compliment of doctors, nurses and isolation booths. Crew will be verified that they have been tested by a bespoke RFID system that registers when a crew member has been temperature tested. Crew will also be given a paper wristband for identification by security as a fall back. Additional temperature test stations will be set up on location as required.
The studio is putting up around 1,800 signs across Pinewood and more on location. These will include reminders that crew numbers will be limited in various locations, the need for social distancing (six feet of separation) and one-way systems in operation.
The studio is rolling out a full COVID training program to be undertaken by all staff before starting. Universal will also do specific training for specialist groups (e.g. costume and makeup).
The studio is manufacturing 150 hand sanitizer stations to be positioned at points around Pinewood Studios. They are also putting in an extra 60 sinks. All crew members will also be given an individual hand sanitizer bottle when they start.
Production will double the cleaning recommendations and employ a large cleaning team who will continually clean all the touch points across the site in addition to all common areas, toilets, welfare and kitchens. They will clean with specialized antiviral sprays appropriate to the situation. In the evenings all toilets, communal areas, welfare areas, kitchens, trucks and sets will be antiviral fogged. Props, grip, SFX and camera will use specialized antistatic cleaning systems.
The studio is setting up a 'Greenzone' for the shooting cast and crew which will have an enhanced testing environment. The 'Greenzone' will be policed to stop any untested crew from coming in as a further measure to prevent any spread of COVID.
Universal will have additional security detail maintaining the temperature testing centers and a further team who will check crew are eligible to go into the protected greenzones. Security team will be trained in COVID measures to ensure that the required operations are followed.
Jurassic World: Dominion, directed by Colin Trevorrow, stars Chris Pratt, Bryce Dallas Howard, Sam Neill, Jeff Goldblum, Laura Dern, Mamoudou Athie, DeWanda Wise, Justice Smith, Daniella Pineda, Jake Johnson, Omar Sy, Dichen Lachman, and Scott Haze. It will be released on June 11, 2021.