"Kill Switch": Jon Hamm, Cedric the Entertainer in Talks to Join Crime-Drama
Actor Jon Hamm and actor-comedian Cedric the Entertainer are in talks to join the Steven Soderberg crime-drama Kill Switch. The film also stars Don Cheadle (Black Monday) and Sebastian Stan (The Falcon and the Winter Soldier). Written by Ed Solomon (Men in Black, Bill & Ted Face the Music), the film is set in the 1950s in Detroit about a trio of criminals who carry out a home invasion. When the job goes sideways, suspicions arise among each other.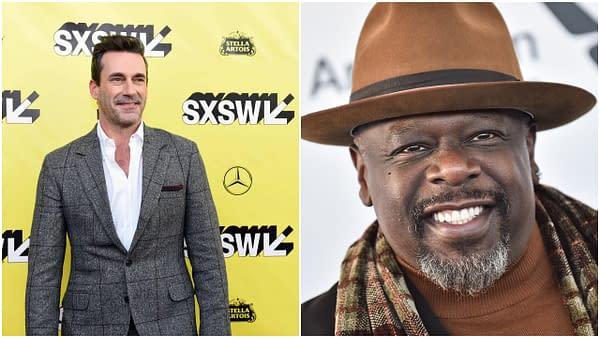 Will Hamm Replace Josh Brolin?
Hamm is in talks to play a cop on the trio's trail in a similar vein as The Town, according to Collider. Josh Brolin signed to co-star in Kill Switch but dropped out due to commitments to his Amazon television series Open Range. No details provided who Cedric the Entertainer would play. Collider expects the Soderbergh film to land with HBO or the streamer HBO Max given his three-year deal. The network is already distributing his next film in Let Them All Talk starring Meryl Streep.
Past and Upcoming Projects
The Emmy-Award winner for Mad Men will be in the upcoming Top Gun: Maverick opposite Tom Cruise for Paramount. He'll also be in the John Patrick Shanley film Wild Mountain Thyme co-starring Emily Blunt slated for a 2021 release. He can be seen in the Netflix comedy series Medical Police.
Cedric the Entertainer is in the CBS comedy The Neighborhood and the Starz! crime drama Power. The actor was in the TBS comedy The Last O.G. with star Tracy Morgan. He'll be in the upcoming biopic Son of the South, Down by the Water, A Fall from Grace, and Above the Line.
Soderbergh directed two films for Netflix in 2019. The first is The Laundromat starring Streep, Gary Oldman, and Antonio Banderas. The other was the basketball drama High Flying Bird starring André Holland, Melvin Gregg, and Eddie Tavares.
There is no set release date for Kill Switch.