Krypton Season 1, Episode 6 Recap: Civil Wars
This article contains spoilers for Krypton season 1, episode 6, 'Civil Wars'.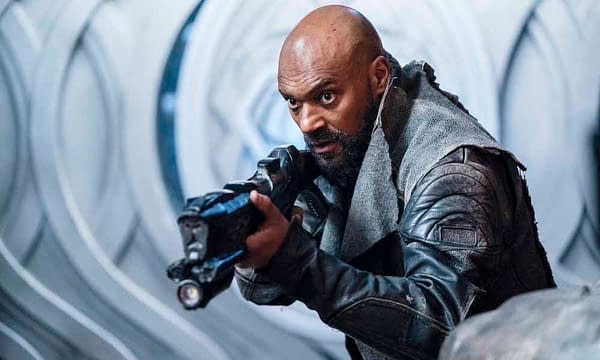 It's no joke to say that everything changed in the series last night. Episode 5 ended with the reveal that the Black Zero leader was the son of Lyta-Zod (Georgina Campbell), and it's a few seconds into this one that Adam Strange (Shaun Sipos) calls him by the name General Zod (Colin Salmon). Zod has come back in time to stop Brainiac (Blake Ritson) from taking Kandor City, destabilizing Krypton's core and causing the planets destruction 200 years later.
The fact that Adam didn't tell Seg-El (Cameron Cuffe) about the destruction of the planet drives a wedge between the two. Seg and Lyta listen to both of them, with Adam realizing that the message he got must have meant him to come back and stop Zod, not Brainiac. Seg and Lyta go with the guy trying to save everyone and head to the door that the Cythonites, which is supposed to house a weapon powerful enough to stop Brainiac. This is what Zod is after, and they leave Adam behind in cuffs as they go looking for it.
Meanwhile at the Hall of Justice — yes, that is where Daron-Vex (Elliot Cowan) works — he, Jayna (Ann Ogbomo), and Nyssa (Wallis Day) make their plan, and Jayna decides to bring Dev-Em (Aaron Pierre) in on the coup. They free a bomb maker from Black Zero with the idea of him being the scapegoat, but one one of the Sagitari notices and questions the decision — it makes Jayna have to kill her soldier to keep things quiet.
The Voice of Rao, on the other hand, is getting close to Ona (Tipper Seifert-Cleveland) and testing her. Through her he is surprised and decides to meet with more of the rankless, ordering to have the room filled for the ceremony to end the Nova Cycle. This is where the coup is supposed to happen with a bomb planted in the chamber. When Dev learns of all the innocent bystanders that would die, he runs into the ceremony yelling "bomb!" and clears the room. He does this because neither Jayna nor Daron are willing to postpone the attack.
Seg, Zod, and Lyta find the door and realize the symbol on it is not a single house sigil, but the combined sigils of El and Zod. It takes both of their blood to open the door and what they find is huge… Doomsday. This is the weapon the Cythonites have sword to protect. Before they can do more than look at Doomsday, Adam comes in with the Cythonites, whom he told what was going on. He tries to get this resolved peacefully, just wanting to stop Seg from unleashing Doomsday. But Zod opens fire and the door closes. Seg saves Adam, and Zod is shot while they are escaping. Seg accepts that Doomsday is an uncontrollable killing machine they can't use, but he also believes in what Zod is trying to do and tells Adam to go back to Earth.
Dev, now in charge of security for the Voice of Rao, leads him into an ambush lead by Jayna. But before they kill him, he removes his helmet and we see that he is Brainiac and counter attacks.
The Verdict
It's amazing how quickly this entire series changed with the introduction of one character. As an audience we're supposed to want to save Superman, but it's no longer clear how. History does have Brainiac taking Kandor City, which means stopping him is part of what stops Kal-El from coming to Earth. And the issue of saving all of Krypton has now come up, putting an extra spin on everything.
What's Next
The trailer for next week shows that the coup against the Voice of Rao seems to have failed. How will that change thing in Kandor? And only four more episodes to go. Will we resolved the Brainiac / Zod story in season 1, or will it be an ongoing thing? Lots of questions.