Co-Creators: The Rat Queens Story, a documentary about Kurtis Weibe and Roc Upchurch (wait, what?), is set to debut at the DOXA documentary film festival in Vancouver in May. Directed by Lonnie Nadler, the documentary follows the rise of the comic book Rat Queens and the fall of Roc Upchurch, who left the book after allegations of domestic abuse were made public by his ex-wife.
Yeah. That's a movie now, apparently. Nadler announced the premiere on Twitter:
This is a 4-year journey finally coming to fruition. Thank you SO much to everyone who helped create this with me. It wouldn't exist without you.

— 𝙻𝚘𝚗𝚗𝚒𝚎 𝙽𝚊𝚍𝚕𝚎𝚛 (@LonnieNadler) April 5, 2018
Well, alright then.
The description, from the DOXA website:
Sometimes your faves become problematic. Co-Creators: The Rat Queens Story is a warts-and-all document of the comic book community's once favourite co-creators. Vancouver director Lonnie Nadler follows Kurtis Wiebe, writer of the New York Times bestselling comic book series Rat Queens, as he builds a successful feminist comic book while dealing with publishing deadlines, a somewhat rabid fandom, and the pressures of starting a family. At the height of the book's popularity, artist and co-creator Roc Upchurch is arrested for domestic abuse. Herein things get increasingly complex.
Well, that's one way of putting it. Tickets can be purchased here.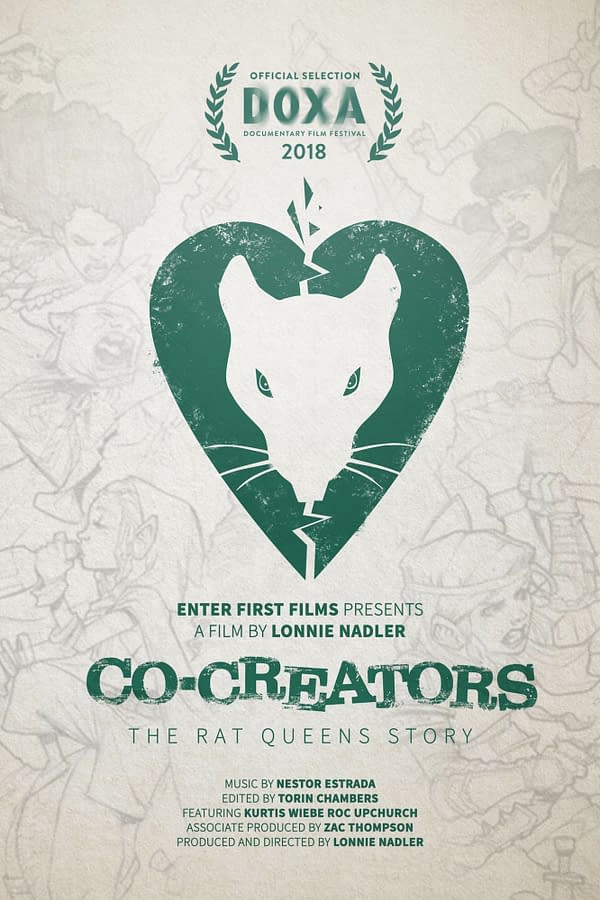 Enjoyed this article? Share it!