Rich Epstein writes from New York Comic Con 2017:
A long time ago (earlier this evening) in a galaxy far, far away (New York Comic Con), a dozen Star Wars writers got together to discuss their experiences, their love of Star Wars and their upcoming projects. We know what's important, so we'll skip ahead to the end of the panel, with the upcoming releases from Lucasfilm Publishing.
The biggest announcement was that Timothy Zahn has just submitted the preliminary draft of Thrawn: Alliance. The room went nuts at the announcement, and that was before Zahn announced that the alliance referred to in the title is none other than the Master of Evil himself, Darth Vader. The book is due to be released in July 2018.
They also announced a five-part Forces of Destiny series to be published by IDW in 2018. More details will be released tomorrow at the IDW panel.
A pair of children's books are also on the schedule for 2018 — Star Wars Makers Lab, a non-fiction how-to book, and the Adam Rex-illustrated Are You Scared of Darth Vader.
Finally, panel members Ben Acker, Daniel Jose Older, and Delilah Dawson admitted that they are working on projects for Lucasfilm, but refused to give any details. Seems like a weird way to promote, but Lucasfilm has always seemed to do pretty well in that area.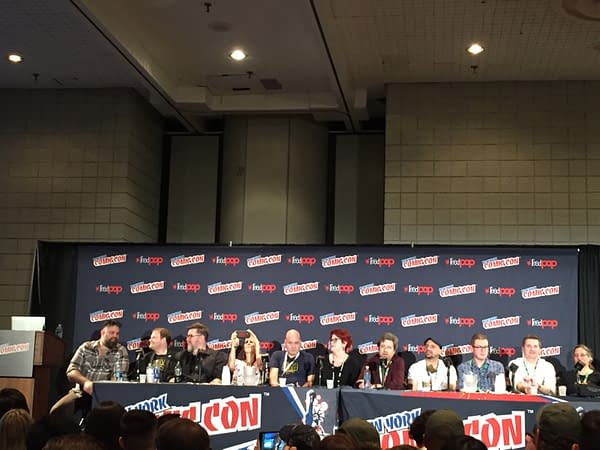 As far as the rest of the panel, there were 12 authors there, although Charles Soule, writer of the Darth Vader and Poe Dameron comics, had to leave only a few minutes in to go meet Mark Hamill. He assured us he had no regrets about ditching the panel to meet Luke Skywalker himself. Before he left, Soule mentioned that he finds it fascinating how much everyone loves Darth Vader — a child-murdering monster.
Zahn spoke about how easy it is for him to resume writing Thrawn, a character he obviously knows well. The biggest difference between writing Thrawn and writing Heir to the Empire is the expectations. When he was writing Heir, nobody knew if there would be an audience since no new Star Wars content had been released for eight years. As he said, it turns out "people waiting in anticipation look exactly the same as people who don't care."
Elizabeth Wein was not at liberty to discuss her upcoming The Last Jedi tie-in novel Cobalt Squad, but was able to talk about how her experiences learning to be a pilot influences her writing. All of the fear that she felt learning to fly goes into her novels.
Dawson told us her secrets to writing Phasma: her Spotify playlist containing to Star Wars soundtracks and the Mad Max: Fury Road soundtrack, lots of violent shows and movies on Netflix, lots of coffee, and some bourbon.
Jonathan Frey, who is writing the novelization of The Last Jedi, said that while his heart will always be with fiction, switching between fiction and non-fiction helps keep him fresh.
Finally, Claudia Grey related how unusual it was to write Leia: Princess of Alderaan, which takes place many years before Bloodlines. The Leia we saw in Bloodline was the victorious hero of the rebellion, a badass. The Leia in Princess of Alderaan has not yet joined the rebellion, has not yet had to command troops and send men and women to their deaths.
The only problem with such a stacked panel is that there simply wasn't enough time for everyone to go in depth. That said, it's amazing just how much content Lucasfilm Publishing is putting out between the novels, the non-fiction, the children's books, and the comics.
Enjoyed this article? Share it!