This article contains spoilers for the Marvel's Luke Cage season 1 episode 9, 'DWYCK'.
.
.
.
.
.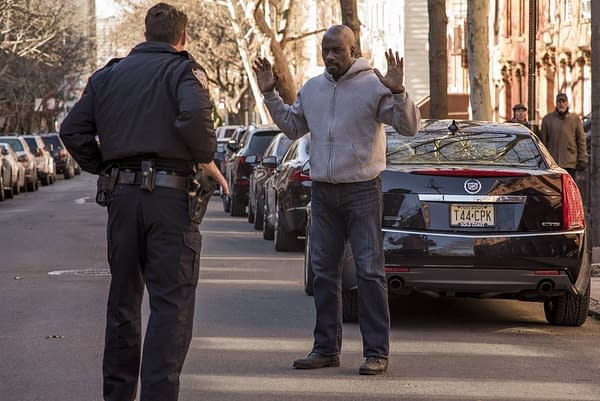 The episode starts with Misty Knight (Simone Missick) in an interrogation room talking to Dr. Gabe Krasner (John Scurti), a former cop turned psychiatrist, trying to find out why Misty got physical while questioning Claire Temple (Rosario Dawson). It's voluntary, but she won't go back on the street until the inspector gets a satisfactory answers. Krasner asks if it was losing her gun to a suspect, him threatening her, or if it was Luke Cage (Mike Colter). She doesn't answer that.
We cut to Luke, who wakes in the back of the trash truck with two gun shot wounds and smelling like trash. He gets out and smells himself then says "Sweet Christmas." We cut to the club where things are going back to normal with Hernan "Shades" Alvarez (Theo Rossi) looking over things. But his new crew hasn't found Luke yet, and that upsets Willis "Diamondback" Stryker (Erik LaRay Harvey), who arrives to check in. He shoots one of the guys to prove a point — that they should be out looking harder. Diamondback then chastises Shades for how he handled things and how Cottonmouth is now dead. He asks Shades for one reason why he shouldn't shoot him, and it's Zip (Jaiden Kaine) who answers, "it won't help find Luke Cage any faster," which keeps Shades alive. But Diamondback makes it clear that Luke isn't dead until they find the body. Luke ducks into a laundry mat and takes a new shirt and hoodie and sees that he's wanted for killing Cottonmouth.
We go back to Misty as Krasner pushes her to talk about dating and how the last guy she hooked up with wasn't who she though he was. Krasner compares that to her former partner, Scarfe, being on the take.
Cut to Mariah Dillard (Alfre Woodard) talking to Cottonmouth's body about how he came to Mama Mabel and how she took care of him. Shades arrives and tells her Diamondback is there to collect — that he's not happy Cottonmouth is dead and that Luke is still alive. He tells Mariah she's the face of the business now and she has to do the right things to show stability or there will be chaos on the streets — and for her.
Cut to a cop car pulling up on Luke, seeing how he's walking and thinking he's a drunk. The cops see that he's Luke and pull their weapons. He disarms one but the other opens fire. He shields the first cop from the shots then takes out the other, leaving them both alive on the sidewalk. He takes their car.
Back with Misty, we get the story of a time she was with her cousin when they were young. Misty left her alone long enough to get a lemonade from a bodega, and the cousin was gone when she got back. Her cousin was found dead two weeks later. This led her to become a cop — and a good one. But she never went for a promotion; she just stayed in Harlem. Kasner pushes to find out if she's dirty like Scarfe, but then calls her on it, upsetting her that she didn't see that Scarfe was crooked and it led to her going renegade with Luke and being aggressive with Claire. Misty says she needs a break.
Mariah goes to see Domingo Colon (Jacob Vargas) and tells him she has a proposition for all the heads of the crews. She wants him to pull them together for a meeting that night. Claire is at her mom's restaurant doing research into Luke's cells and looking at Reva's computer drive, figuring out it has something to do with Seagate and Dr. Burnstein. Luke shows up and his wound is getting infected. He wants nothing to do with Burnstein, but Claire tells him he may have no choice. The footage of Luke and the cops hits the internet, and Mariah's assistant urges her to use it to her advantage.
Back with Misty, she finally starts talking about how Diamondback took control and how she thought the was going to die. When Claire was mouthing off, Misty just wanted to take control back. She realizes what she did was wrong, and it seems like this was where Krasner wanted her to go. We then see that Ridley (Karen Pittman) had been watching all along.
Luke isn't doing well as he and Claire drive out of the city to go see Burnstein (Michael Kostroff). He tells Claire that Diamondback was his best friend growing up and that he thinks he's Luke's brother, but Luke believes that's a lie. They get to Burnstein's house, who wants nothing to do with Seagate until Claire mentions Carl Lucas and that he's alive and in the car. Burnstein helps her bring Luke in the house. There he gets a brief idea of what's going on but he lost all of his research. Then Claire gives him Reva's computer drive and he is able to unlock it. The drive has all of his research and more.
Luke is getting worse and they take him out to the barn, where Burnstein has a new lab. He tells Luke that even though Reva begged him to do the procedure on Luke, he was already earmarked for the program because of his strength. Claire shows him how to get a blood sample from inside Luke's throat since they can't pierce his skin. Back to the precinct and Ridley is now sitting with Misty. She's not happy, but she gives her back her gun and badge so she can bring Luke in.
Mariah and Shades go to the meeting at Domingo's gym with the four other bosses and they are surprised when Diamondback comes in and kills the four other bosses for not buying from him. He leaves Domingo alive, though, to keep running the drug trade. He then asks Mariah why he should be her friend. Mariah tells him because Luke Cage can be used to make a lot of money. She says that Diamondback should go "Big Pharma" with this — create the disease and then the cure. Go big in killing Luke and then everyone will come to him to take out the rest of the "freaks" that are popping up everywhere. Diamondback likes it, and he tells Mariah she'll be the one brokering the deals until he says she's done. He then goes to get a steak.
Burnstein gets most of the information he needs from the drive except for temperature. His plan is to put Luke into boiling acid until they get to the right temperature that weakens his skin enough to cut it and get the bullets out, but he could also just melt all of his skin off deep-frying him like a turkey. He's done it before with animals, he says. Before they start, Luke tells Claire that if something goes wrong, make sure that Burnstein doesn't keep Reva's data, even if she has to kill him. Cardiac arrest warnings go off, but it's not working… he puts up his fist to tell Claire to get him out, then we cut to black.
The Verdict
The episode is long at an hour and six minutes, while the others are closer to 50 minutes. The scenes with Misty give her more backstory and strengthen her character even more. The more we learn about Diamondback, the crazier he seems. But Shades trying to groom Mariah is fascinating to watch. It looks like even Shades can't control Diamondback, though. Burnstein is an interesting character in that he seems to genuinely care about people but also gets lost in the science. The relationship between Claire and Luke is coming along nicely and naturally — something most shows can't seem to pull off. This one is letting them find their balance on their own and not rushing it. The look on Luke's face when Burnstein talks about dunking him in boiling acid is priceless. The episode was long, but most of it was necessary.
Enjoyed this article? Share it!