BC Exclusive: Check Out A Clip From Action Film Last Resort
This afternoon we have an exclusive clip from Saban Films action film Last Resort, now available on digital and on demand.
---
Last Resort is a new action film from Saban Films, and Well Go Entertainment starring Jon Foo (Tekken, Rush Hour) and Clayton Norcross (The Bold and The Beautiful). The film has some pretty great action throughout and is about a man whose family is taken hostage during a bank heist. As the former special forces soldier takes out the gang of thieves, they realize a deadly toxin was taken from the vault, putting millions of people in danger. The film is directed by Jean Marc Mineo. Below you can see an exclusive clip from the film, which is now available on digital services and on demand.
Last Resort Synopsis
"A former special forces soldier becomes a one-man army when his wife and daughter are taken hostage during a bank robbery. As he brutally neutralizes the gang of thieves, the lives of millions hang in the balance when a highly lethal toxin is stolen from the vault. THE LAST RESORT is an intense action thriller powered by breathtaking fight choreography."
The director had this to say about the film: "The title itself contains the questions and the answers. The hero is the LAST RESORT to a solution that seems lost in advance. It is the catalyst for a violence that acts like a poison on man and his environment and sometimes even his family. MICHAEL is a soldier. Who says soldier, says clashes and fights because beyond a first-degree reading of what one could call a genre film, I want to bring several levels of consciousness and try to train the viewer in a more human and deeper story. Because through an unbridled action, the story led drum beating by strong and endearing characters, takes up the great themes of justice and redemption. It is also a work on the violence of our society, whether it was justified by a state or imposed by illicit acts."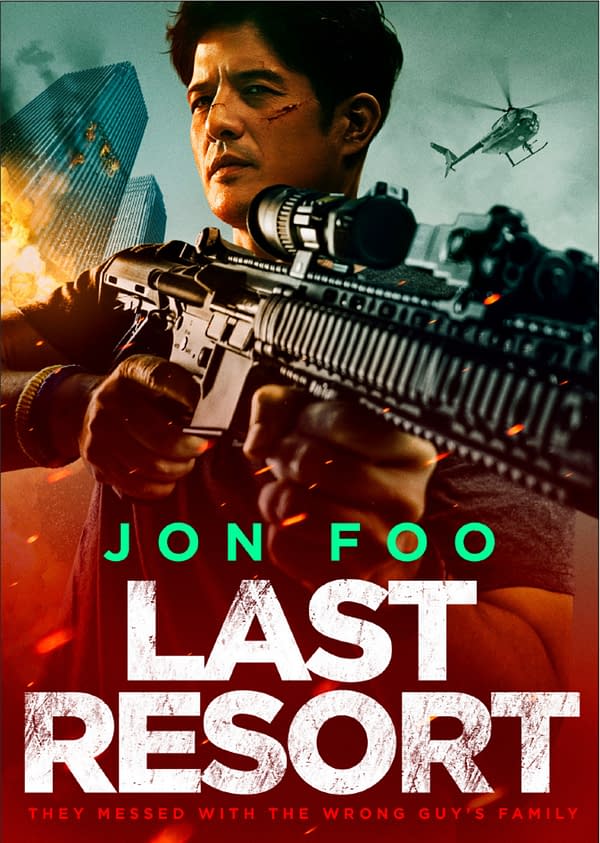 The film is well worth your time, and the action set pieces are very well done and shot. This is also playing in select theaters as of last Friday, and if you can see Last Resort on a big screen, do it.