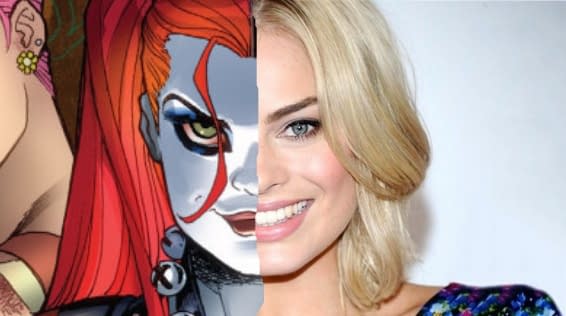 From AZCentral, the website of 12News, an interview with actress Margot Robbie about her film Focus, starring with Will Smith, out this week.
Except she was also asked about her not actually officially announced role, as Harley Quinn in Suicide Squad.
Q: I'm really excited to see you play Harley Quinn in "Suicide Squad."

A: Oh my God, me too. I don't even know if I'm meant to be talking about this.

Q: This is one of those roles that you could potentially be playing for years. Is that scary?

A: Yeah, that's daunting. You don't need to have commitment issues to be frightened by the fact that you might have just signed 10 years of your life away. … But with her, it's a character I don't think would ever get boring. Ever. So if they did "Suicide Squad One," "Two" and "Three," I would be over the moon about it.
Well that's your franchise right there…
Enjoyed this article? Share it!