Martin Sensmeier (Wind River, Westworld) is set to star as Jim Thorpe in Bright Path: The Jim Thorpe Story. The film is being produced by none other than Angelina Jolie. The screenplay comes from the duo of Alex Nibley and Sterlin Harjo.
Few people except Thorpe can claim the title of Olympic gold medalist, Major League Baseball Player, and professional football player. Not only was he a versatile athlete, but he was a Native American who was competing at a time when not all Native Americans were recognized as U.S. citizens by the U.S. government.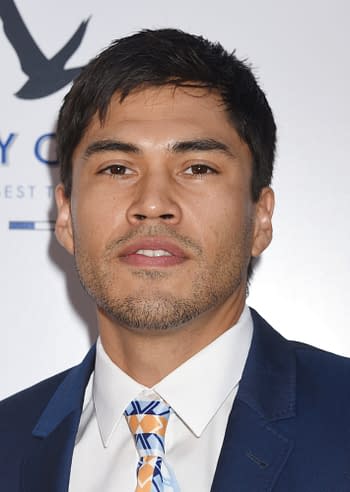 We've had a bevy of biopics in recent years highlighting the struggles of minorities in the U.S., but one group that have been severely underrepresented are Native Americans. More often than not, minorities on screen are supporting roles in stories that are, quite frankly, not about minority protagonists. Or characters fall into gross and broad racial stereotypes.
Thorpe's life is fascinating, and it's one that should hopefully make for a great translation to screen. He was a member of the Sac and Fox Nation and was the first Native American to win a gold medal for the U.S. in the Olympics. He took hope gold in 1912 for the pentathlon and decathlon but was later stripped of his medals when it was revealed he'd been paid for two seasons of semi-professional baseball before competing in the Olympics. Professional (or semi-professional) athletes were not allowed to compete at the time. The rules around Amateurism and professionalism were updated in 1988 to allow professional athletes' eligibility in the Olympics.
There was considerable controversy surrounding the timeline of Thorpe's "professional" career at the time, and Thorpe's supporters definitely cited racial discrimination as a consideration. Thorpe's medals were eventually reinstated in 1982, 29 years after his death.
Thope's post-athletic career was somewhat turbulent, and it didn't end in a fairy tale manner. Thorpe has already been played on screen in Jim Thrope – All-American by Burt Lancaster.
The filmmakers of Bright Path will be partnering with Indian Country in order to tell an authentic story by Native Americans featuring Native Americans (and played by Native Americans, Martin Sensmeier of Tlingit and Koyukon-Athabascan descent). Thorpe's family is also involved in the making of the film.
Enjoyed this article? Share it!