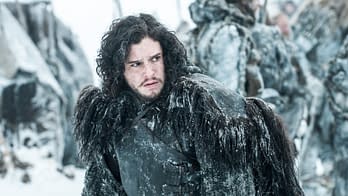 HBO has secured its principal actors for a seventh season of Game of Thrones. The actors who were all signed through a sixth season have renegotiated for a seventh season which has them making roughly $300,000 per episode starting with season five. A seventh season has not been officially greenlit, but it seems very likely.
The actors in the series are paid based on a tier system with the A tier consisting of Kit Harington (Jon Snow), Peter Dinklage (Tyrion Lannister), Lena Headey (Cersei Lannister), Emilia Clarke (Daenerys Targaryen) and Nikolaj Coster-Waldau (Jaime Lannister) and are said to have renegotiated their deals in tandem.
The B tier is said to also be getting raises but it's not known how much at this time. The tier includes Natalie Dormer (Margaery Tyrell), Sophie Turner (Sansa Stark), Maisie Williams (Arya Stark) and others.
The show is one of the biggest hits for HBO with the season 4 finale pulling in 7.1 million viewers. Game of Thrones has passed The Sopranos as the most watched HBO show in terms of average gross viewership and the series pulled in 19 Emmy nominations.
[Source: THR]
Enjoyed this article? Share it!