"Avengers" Star Don Cheadle Wants More Opportunities for Actors with Disabilities
Avengers: Endgame star Don Cheadle responded to a fan inquiry at ACE Comic Conin Seattle about the response he's had from the disability community playing James "Rhodey" Rhodes/War Machine, who suffered a serious spinal injury during the events of Captain America: Civil War. Following his injury, Tony Stark/Iron Man (Robert Downey Jr.) created braces to help Rhodey walk. Cheadle was joined by co-stars Jeremy Renner and Chris Evans, who play Clint Barton/Hawkeye and Steve Rogers/Captain America, respectively.
"People have asked, 'What was the takeaway from that, did I consult with people?' And obviously, yes, I talked to people who have had spinal injuries and how to deal with that, and how to portray that…people have reached out to me with regards to that. In fact, there's been kind of a movement about getting more actors with 'disabilities' to be able to represent and play themselves on screen, which I think is very important to continue to do. So hopefully those opportunities will expand and grow."
Attendees at the convention uploaded the panel on YouTube.
There were a few scenes shown in post-Civil War Marvel Cinematic Universe films where Rhodey's braces malfunction. Cheadle describes his experience from fans as "very rewarding".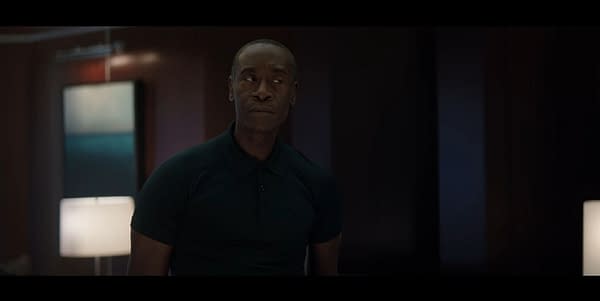 "Seeing people's responses, and when people come up and say it meant a lot to them, the character and the way it was portrayed, dealing with what he has to deal with after obviously what happens in [Civil War] … and that he comes back, and that he's able to stand strong again with his cohorts and to make the thing happen, that's always very rewarding. And that's the experience I always get from fans, but one of the most rewarding things is also this sort of family that we've created over all these years that we get to keep returning to, and every couple years things have happened in people's lives, families and kids. This is ten, 11 years that we've been doing this, so it's always nice to have a reason to come back in our busy lives and revisit this space again with these guys that have become a family."
Cheadle showered praise to Anthony and Joe Russo for creating depth within each character to have their own arcs.
I felt fortunate to actually get to take that character through that arc, because — and with Clint's character too — we visit very dark places in these movies, and as actors we appreciate having the opportunity to do things that are fantastical, and huge, and fun, and exciting, but also to really touch some deep, emotional beats, and put that all inside of that whole universe.
While we know following the events of the Endgame, Renner's path as Hawkeye looks to continue on TV for Disney+ streaming service. Evans has officially retired from playing Captain America with Rogers' decision to follow Stark's advice to "enjoy life" to old age in lieu of traveling back to the present.
Cheadle's appeared in eight MCU films, but his future as War Machine remains in limbo somewhat, because there are no solo films or Disney+ series currently planned. There is no real relationship between Peter Parker/Spider-Man (Tom Holland) and Rhodes. Another possibility is Rhodes can serve as a mentor for Ironheart when they decide to plan out her future into the MCU. The only thing certain is War Machine will have some role in future Avengers films.
What would you want to see War Machine do in Phase IV?
The Avengers: Endgame re-release is currently in theaters. You can own it on digital July 30th and on 4K Ultra HD and Blu-Ray on August 13th.