Michelle Wolf Compared Sarah Huckabee Sanders to a 'Handmaid's Tale' Character
During the 2018 White House Correspondents Dinner, host Michelle Wolf compared White House Press Secretary Sarah Huckabee Sanders to a notable character from Hulu's The Handmaid's Tale.
Reception for Wolf's speech has been decidedly mixed, several high ranking outlets (like CNN) saying her direct insults of Sanders were bullying, and uncalled for. It's almost like they forgot for a minute who was hosting, who she was speaking about, and the current massive divide in the press sector in general.
Specifically, Wolf compared Sanders to character Aunt Lydia, played by Ann Dowd. Several commenters are quick to jump to conclusions this was a direct appearance-driven comparison, but is mostly not the case. After all, Aunt Lydia does her job- shows up everyday, repeats the things her bosses have told her to, and does her best to sway and paint public opinion on every single subject.
Wolf quipped that she "loved Sanders as Aunt Lydia in The Handmaid's Tale. Mike Pence, if you haven't seen it, you would love it."
Why are you guys making this about Sarah's looks? I said she burns facts and uses the ash to create a *perfect* smoky eye. I complimented her eye makeup and her ingenuity of materials. https://t.co/slII9TYdYx

— Michelle Wolf (@michelleisawolf) April 29, 2018
There was a response today via a Sarah Huckabee Sanders facebook page, which may or may not be a real one (we're pretty sure it's not), addressing the comparison.
The post reads:
"I don't think I can fall asleep tonight until I say a few things publicly. First, I'm so grateful for all of the support people are showing me after the White House Correspondents' Dinner this evening. Second, Michelle Wolf thought it was funny comparing me to Aunt Lydia from the Handmaid's Tale, but I'm proud to be associated with that hard-working and fearless woman. In fact, I think I'm going to ask friends to call me Aunt Lydia from now on! Good night and God bless."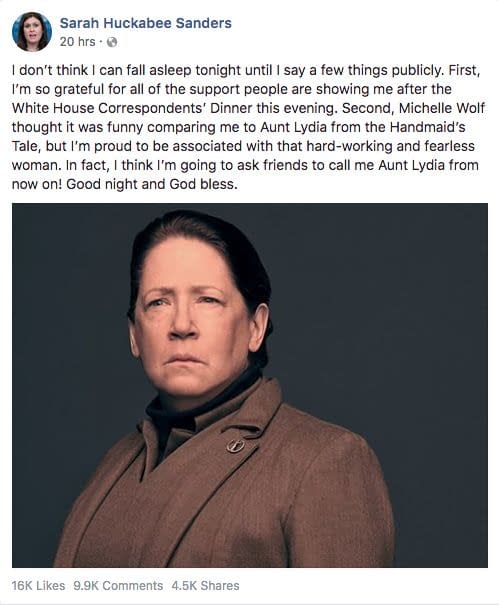 Shockingly (or not), former White House Press Secretary Sean Spicer was quick to call the annual event a disgrace.
Tonight's #WHCD was a disgrace

— Sean Spicer (@seanspicer) April 29, 2018
There was a call from the DC press for an apology from the organization. While that didn't happen, the association's president Margaret Talev did offer a statement on the event:
"Last night's program was meant to offer a unifying message about our common commitment to a vigorous and free press while honoring civility, great reporting and scholarship winners, not to divide people," Talev said. "Unfortunately, the entertainer's monologue was not in the spirit of that mission."