Molly's Game Review: Jessica Chastain Commands Your Attention
Molly's Game feels like the film Aaron Sorkin has been building up to for his entire career.
Blending real-life stories with stylized productions has been a staple of films he has written for years. The Social Network, Charlie Wilson's War, Moneyball — even back to his television shows The West Wing and Sports Night. All of them have featured whip-smart dialogue that can cover miles and miles of plot in a matter of minutes. He basically made it an art form all his own. You either love this frenetic style or you avoid it all costs. Thankfully, this one is a home run. Well, it clears the wall. There are some interesting stylistic choices he made shooting this film that left me scratching my head; but other than that, this one flies through its running time smoothly. Sorkin is at his top writing game here — probably his best since his Academy Award-winning screenplay for The Social Network.
But if he didn't have Jessica Chastain, Molly's Game would fall completely apart. I have not seen an actor or actress all year grab a role like this and completely bowl me over. Molly Bloom, the former Olympic hopeful-turned-poker game-running badass, is arrested early on in the film, her home raided by the FBI. Penniless, she turns to lawyer Charlie Jaffey (a stellar Idris Elba, having a hell of a year himself) to help clear her of federal racketeering charges. This is all based on Bloom's autobiography, which itself becomes a macguffin in the film.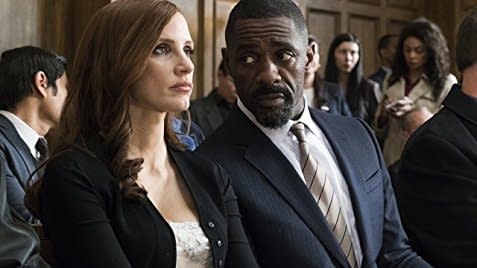 Chastain may be the best working actress around right now. She is in 98% of the scenes of this film and carries the whole thing on her back. She is more than up for the task, and she never falters in the role; not once. When you see someone excel at something the way that she does on screen, it is such a delight. I will tell you what, too — I want to see a stage play starring her and Elba every day for the rest of my life. Their chemistry is off-the-charts great.The rest of the cast is just as strong, with Kevin Costner doing excellent work as Molly's father. Costner and Chastain share a scene on a park bench that is one of my favorites of the year.
My only complaint here is that sometimes the film gets a little bogged down by the minutia of poker. I will never understand how people can just sit down in front of a television and watch people play cards. While it can produce scenes of great drama, they are countered by characters spewing poker babble that for the life of me I do not understand, no matter what graphics are put on screen. These are minor quibbles, however, overshadowed by the film's many pros.
Molly's Game is a wonderful and refreshing experience. It is always a good time seeing masters of their craft at the top of their game.