Mondo releases new vinyl special editions every Wednesday. They are they ultimate edition of whatever they put out, featuring extensive liner notes, brand-new commissioned artwork, and always include a limited-edition size. The vinyl itself is usually colored or a photo disc, as well. Basically, it's like the Criterion Collection of movie and gaming soundtracks. This week sees the release of the soundtrack to the John Carpenter classic They Live! The vinyl is joined by a new poster and a new book about the film as well!
A classic story of one man fighting for the freedom of the world with a great science-fiction twist. This movie is full of amazing dialogue and also contains the greatest fist fight in the history of cinema. Like most of Carpenter's films, THEY LIVE has an urban-western feel to it, which is emphasized by the infectious score.

Celebrated designer and artist Alan Hynes has crafted a spectacular collectible package for the soundtrack befitting the film's theme of subliminal communication, utilizing the iconic sunglasses to reveal hidden messages as you pull the disc sleeve from the slip case.

Carpenter and Howarth's main theme conjures up images of a lone cowboy entering town, with the main melody augmented with the sounds of harmonica and saxophone. There's a carefree attitude which reflects Rowdy Roddy Piper's character, but the score takes on a more sinister tone when he realizes he doesn't know anything about what's really going on. Carpenter's signature synth tones create an uncomfortable atmosphere, but the main bassline is always fighting against them, never giving up. Electric guitar is used fleetingly, but brilliantly, and the whole score embodies the kind of rebelling against authority Carpenter is famous for. THEY LIVE will rock your world without the need for a Brazilian plastic surgeon to put you back together again.
As with all Mondo releases, this will go up for sale on Wednesday at Noon central time. The edition size for these releases are limited, as always. It is never worth risking waiting with these. You can grab a copy today right here.
Also available today will be a new book about the film, titled THEY LIVE: A Visual and Cultural Awakening.
THEY LIVE: A Visual and Cultural Awakening featuring contributions from John Carpenter, Slavoj Zizek, Shepard Fairey, John Grant and many more. Edited by Craig Oldham and will be published by Rough Trade Books. In partnership with Mondo/Death Waltz Recording Company, a special-edition version housed in a slipcase and includes a signed and numbered money bill and lenticular bookmark.
Finally, a new They Live poster by artist Alan Hynes will go for sale as well. This one is limited to 175.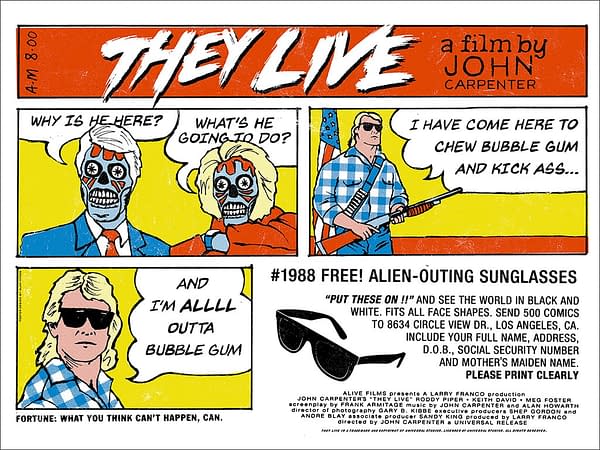 Enjoyed this article? Share it!