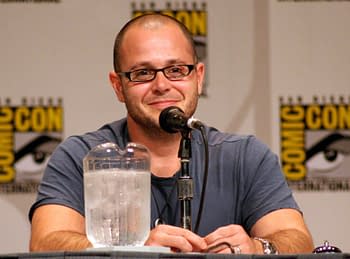 If you're not watching the HBO series The Leftovers, then you may not have noticed Damon Lindelof's quest to balance out that amount of male nudity on television to that of female nudity. The co-creator of Lost told TVLine:
"There's an incredible disproportion between naked women and naked men on television. And if you're going to do a show on HBO, which is one of the few places where you can do full frontal nudity, there's no excuse not to show more dongs. I'm passionate about it."
His answer to this was to have a male character run fully naked down the corridor of a submarine. He's also had actor Chris Zylka display full-frontal nudity, and for Doctor Who fans, Christopher Eccleston even let out his Tardis. He has yet to ask series star Justin Theroux to bare all, though, saying he'd never ask an actor to do it if they were uncomfortable with it. Lindelof, who claims his license plate says "FFRNTL" continued:
"The audience still has a very odd reaction to seeing male genitalia. Yet when they see female genitalia or naked breasts, they're completely nonchalant about it. [So] I'm just the beginning of the vanguard, but I want to normalize male nudity on television."
This is not the only show with a steady rate of phallic cameos. The Starz series American Gods prided itself on having two penises appear in a single episode. There was also a fan screening just prior to the series premiere where one of the cast members commented on the show's membership status, claiming: "Starz loves C#@ks".
You'll know that Lindelof has succeeded in his quest when the most-seen Johnson on television is no longer named Dwayne.
Enjoyed this article? Share it!