My Neighbor Totoro Returning To Theaters For Anniversary Screenings
My Neighbor Totoro is coming back to theaters to help celebrate its 35th anniversary, part of Studio Ghibli Fest 2023.
---
My Neighbor Totoro is 35 years old this year, and to help celebrate the anniversary, GKids is teaming up with Fathom Events to bring it back to theaters. Part of Studio Ghibli Fest 2023, the screenings will occur March 25-29, with afternoon and evening screenings available. The film will be screened in both its original Japanese and an English dubbed version. All screenings will include a mini-documentary selection from the series 10 Years With Hayao Miyazaki. More info and a link to buy tickets can be found below.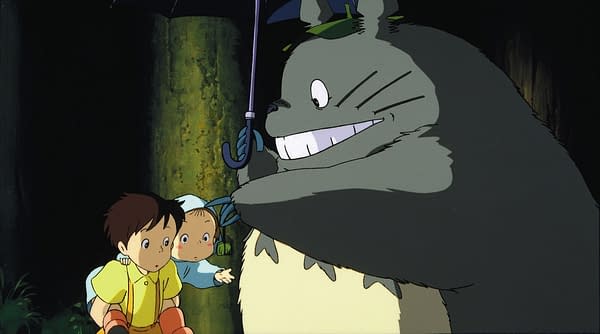 My Neighbor Totoro Is Perfect
"Tickets are on sale now for the celebratory 35th-anniversary screenings of renowned director Hayao Miyazaki's cherished feature My Neighbor Totoro, kicking off Studio Ghibli Fest 2023. GKIDS, celebrating its 15th anniversary as producer and distributor of multiple Academy Award®-nominated animated features, and Fathom Events, are proud to continue their collaboration for Studio Ghibli Fest 2023 and deliver a slate highlighting all ten of Hayao Miyazaki's iconic animated films with Studio Ghibli, as well as the first-ever North American screenings of SPIRITED AWAY: Live On Stage. The film will be shown in both original Japanese and English dubbed versions. In addition to the full feature, audiences will get to view exclusive selections from the documentary series 10 Years with Hayao Miyazaki. Tickets for My Neighbor Totoro and the rest of Ghibli Fest 2023 can be purchased online by visiting GhibliFest.com, FathomEvents.com, or at participating theater box offices (Theaters and participants are subject to change)."
Very few films reach the level of quality that Totoro reaches, and to see it on the big screen again is pretty awesome. It really is a perfect film, and I cannot wait to see it again. The entire catalog of Miyazaki is being shown as a part of this festival, so make sure to get info on all of the screenings at the above links.