Nerd Beauty: The Horrifying (Yet Hydrating) Hello Kitty Sheet Mask
Sheet masks are all the rage in the beauty world right now. The easy-to-use masks offer immediate hydration to dry skin, which is especially great for these dry, winter days! Most of the ones I get are just plain white, but when I saw this Hello Kitty Narikiri ("to turn completely into") one at my local Hot Topic, I knew what I must do.
The packaging is painfully cute, which is normal for Hello Kitty. So, now it's time to try the sheet mask. Brace yourselves. This post is about to get weird.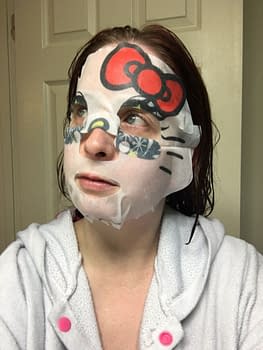 Okay, not bad. The best times to use these are right after a shower, which is what I did. So, can it get worse?
Heck yes it can!
Did it work? Yeah. My face isn't dry anymore. Would I use this again? Absolutely. I love Hello Kitty, and it's wonderfully creepy. Literally the best of both worlds.