Parfaits are a wonderful warm weather treat, and depending on what you put in them, they can be healthy too! And this parfait is perfect for the little merperson in your life.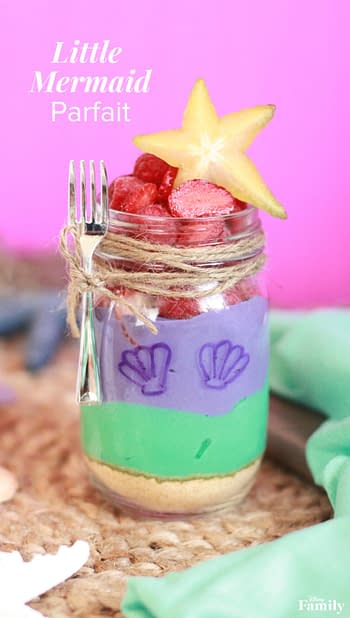 Ingredients
JAR DECOR:
3 large glass mason jars
Purple permanent marker
Twine
Scissors
Mini silver plastic forks
PUDDING:
1 large box vanilla pudding
Milk
Turquoise and purple gel food coloring
8 graham crackers
2 Cups raspberries
1 Cup strawberries, hulled and sliced horizontally
Star fruit, sliced 1/4″ thick
Helpful Tip
All cutting should be done by an adult.
Directions
DECORATE JARS: Using the purple marker, draw Ariel's shells on the front and center side of the glass jars.

Wrap twine around the jars, add the fork, and tie a bow around it.

PUDDING: Prepare vanilla pudding according to instructions on the box. Once pudding has set, divide between 2 bowls.

In first bowl, stir in a few drops of turquoise food coloring until it's fully blended. In second bowl, stir in a few drops of purple food coloring until it's fully blended. Set bowls aside.

Add graham crackers to a food processor to create crumbs. If you don't have a food processor, place graham crackers in a zip-top bag and crush into crumbs with a rolling pin.

FILL JARS: Using a spoon, start by adding a layer of graham crumbs, about 4 tablespoons.

Next, fill the jar just short of half way with the turquoise pudding.

Add an equal portion of the purple pudding, filled just below the neck of the jar.

Top the jar with strawberry slices and raspberries.

Add a slice or 2 of star fruit on top.
Enjoyed this article? Share it!