New Behind-the-Scenes Featurette for the A-Force Scene in "Avengers: Endgame"
The extra features for the home release of Avengers: Endgame have started to appear online and one of them is a new behind-the-scenes featurette for the two-minute A-Force movie we got during the third act. The scene drew mixed responses from audiences with some absolutely loving it while others thought it was too pandering. Marvel released the new featurette that shows off the various ladies talking about what the scene means to them and for the movie.
There was likely another reason that Marvel included the scene and that was because it was an easy way to focus test the idea of an all-female Avengers team. The idea has been kicking around for years and the reaction it got will determine whether or not we see a full-length movie someday.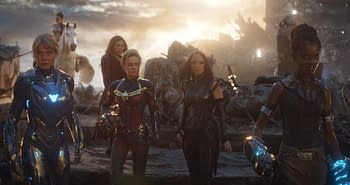 Summary: After the devastating events of Avengers: Infinity War (2018), the universe is in ruins. With the help of remaining allies, the Avengers assemble once more in order to undo Thanos' actions and restore order to the universe.
Avengers: Endgame, directed by Anthony and Joe Russo, stars Robert Downey Jr., Chris Evans, Scarlett Johansson, Jeremy Renner, Mark Ruffalo, Chris Hemsworth, Josh Brolin, Karen Gillan, Paul Rudd, Brie Larson, Benedict Cumberbatch, Don Cheadle, Tom Holland, Chadwick Boseman, Paul Bettany, Elizabeth Olsen, Anthony Mackie, Sebastian Stan, Letitia Wright, Dave Bautista, Zoe Saldana, Chris Pratt, Evangeline Lilly, Jon Favreau, Sebastian Stan, Pom Klementieff, Michelle Pfeiffer, Gwyneth Paltrow, Sean Gunn, Katherine Langford, Ty Simpkins, Winston Duke, and Danai Gurira. It will be available on digital July 30th and on Blu-ray/DVD on August 13th.