Ready Player One Review: One of the Most Entertaining Films of the Past Decade
Jerome Maida writes for Bleeding Cool:
[rwp-review-recap id="0"]
WARNING: This review does contain some story-specific spoilers. Read at your own risk
If you are looking for a movie that reminds you why you fell in love with movies in the first place, get prepared for Ready Player One.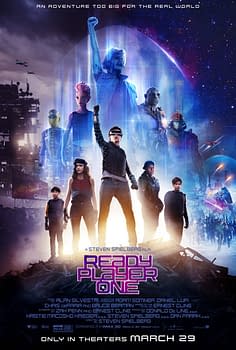 It is arguably the most entertaining film of the past decade. A large reason for that is director Steven Spielberg, who has been so successful telling "serious" films over the past two decades — from Schindler's List to Saving Private Ryan to The Post — that many thought he was done telling the more eccentric, larger-than-life stories (Jaws, Close Encounters of the Third Kind, E.T.) that made his name synonymous with fantastical entertainment. Spielberg was obviously inspired by Ernest Cline's book of the same name — which has spent more than 100 weeks on The New York Times Bestsellers list — and, with Cline helping with the script (along with Zak Penn), has given us a film for the ages. Spielberg's enthusiasm for the project is clear in every frame and becomes infectious.
Ready Player One takes place in the year 2045, where much of Earth's population lives in The Stacks, slum-like cities that literally have people living in trailers stacked on top of each other. Reality is so harsh that nearly everyone escapes into the virtual-reality world of the OASIS (Ontologically Anthropocentric Sensory Immersive Simulation), where they can engage in numerous activities for work, education, and employment.
That is the crux of the movie. In a world where people can go anywhere, do anything, and be anyone, virtually no one wants to be themselves for the majority of their existence. This brings us Wade Watts, played wonderfully by Tye Sheridan. Watts lives a lonely life in which his parents are dead and he is physically abused by his aunt's boyfriend. Unlike many in the OASIS, Wade doesn't want to look like a bouncer or James Bond. He chooses an avatar, Parzival, simply wants to look like a pretty average kid who can ride a skateboard like nobody's business.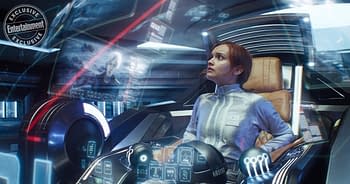 As we learn, the OASIS was created by the brilliant and eccentric James Halliday (Mark Rylance), a Steve Jobs-ian creator who left his immense fortune and total control of the OASIS to the winner of a three-part contest he designed to find a worthy heir.
If you think the nod to Willie Wonka and the Chocolate Factory was not intentional, guess again. The iconic song from that Oscar-nominated score, 'Pure Imagination', plays a role in the film, as well as what many will feel is the real star of the movie: the rapid-fire cultural references that pay homage to the pop culture of every decade from the 1970s onward. Heck, there are even a couple from earlier in the 20th century. However, under Spielberg's direction, such Easter eggs or nods never seem trivial or forced, but rather an important part of the story — and even some classic showdowns you'd never thought you'd see always serve the story rather than being pure nostalgia.
The references come so fast and furious that it's okay to note that Parzival's car of choice to win the contest is the DeLorean from Back to the Future. This is one of the few references to Spielberg's own work that he greenlit using, since he has said he didn't want the project to be construed as a vanity piece and wanted the focus to be on the story.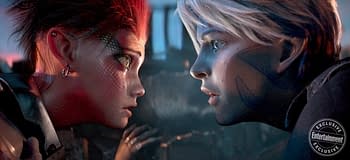 This shows. The first trial in Parzival's Quest to win the contest has him racing his DeLorean through hazards that include challenges such as shifting roads, wrecking balls, spikes, and even King Kong. It is also where he meets with another famous avatar named Art3mis, who looks and acts like a uber-confident punk chick. It is Art3mis's spunk and indomitability that has Parzival deciding to joining forces with her and, eventually, fall for her. However, Art3mis is probably the most cynical of the bunch throughout most of the movie. She tells Parzival that she looks nothing like her avatar in the "real world". He says he doesn't care.
When Wade meets Art3mis's true self, he discovers that her real name is Samantha Cook and that she has a huge birthmark on her face. Wade says he doesn't care — he thinks she is beautiful. This reinforces a recurring theme: you shouldn't be afraid to be who you are, a theme that applies to the three other "Gunters" (short for egg hunters) that make up a team called the Big Five. They want to win the contest and stop the machinations of Nolan Sorrento, played by Ben Mendelsohn, who has a blast playing a villain.
While the theme of self-acceptance may seem shopworn, in Spielberg's hands it truly hits home in a fresh way. This is a world in which virtually no one wants to look or act like themselves… and the heroes' journey therefore doesn't just become a typical action movie, but one of self-discovery as well.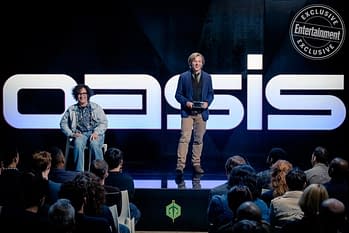 By being so imaginative in every frame, Spielberg makes us care about the little moments that much more. When, in the real world, Sam has to go across a room without being seen, it feels more powerful, emotional, and real than full action scenes featuring James Bond or Black Widow. Due to Spielberg's craftsmanship and Olivia Cooke's acting, you feel an emotional attachment to her character trying to overcome incredible odds by finally being herself. The beauty is, each of the Big Five has that kind of moment.
Ready Player One is an almost flawless movie. It is fun, action-packed, visually breathtaking, life-affirming, and joyous. Though there is one minor quibble: the film is so good I can't give it anything but the highest grade possible, for reminding us and being an example of why we love to go to the movies in the first place.
[rwp-review-ratings id="0"]
[rwp-review-form id="0"]