Six Important Moments From Arrow – A.W.O.L.
This article will contain spoilers from the most recent episode of Arrow.
.
.
.
.
.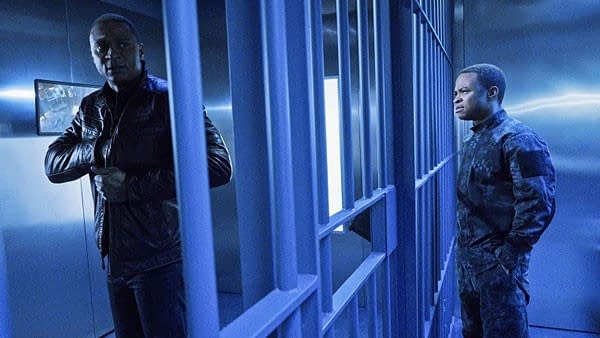 In the latest episode of Arrow, entitled A.W.O.L., we get some more of the backstory between the Diggle brothers, do some soul searching with Felicity, solidify some codenames and lose a character to the film universe. Here are the important moments from the episode.
1 – Felicity Smoak is home from the hospital and trying to deal with the idea that she will never walk again. This is something television tends not to do very well. Often the character goes through the acceptance in an unusually short amount of time… like a single episode. That's what happens here. But the writers use this opportunity to not only show Felicity's inner strength, but also bring back the goth/hacker look from last season. Through her hallucinations she reminds herself how she dealt with the loss of her boyfriend, how she became stronger and that she can do it again. By the end of the episode she is back to helping the team and Oliver Queen pledges that medical science may think she'll never walk again, but with all the amazing things they've seen that he'll never rest until she is healed.
2 – John Diggle is trying to work on his relationship with his brother Andy and they are the center of this episode. When John and Lyla Michaels are attacked after an ARGUS agent makes contact, it leads to an organization called Shadowspire which Andy was once part of. Andy is far more willing to help against them than he was against HIVE. This leads to the two Diggles having to work together to save the day and John taking Andy home to meet his niece Sara. It's a nice moment of redemption but it doesn't feel like we're done yet with Andy's story.
3 – Now the interesting thing here is the flashbacks are all about John and Andy but they tie into how Andy got involved with Shadowspire and we meet the big boss, Baron Reiter. And the drugs and stuff Andy helped get them were used to acquire the map to Lian Yu which will send Reiter and a team to the island where Oliver is in the flashbacks. Nice way to tie it all together.
4 – If you have ARGUS then you are likely to have Amanda Waller... and we do. Seems Shadowspire's big plan is to invade ARGUS to obtain something called Rubicon. Joyner, the head of the Shadowspire team, is willing to kill an ARGUS employee every twenty minutes if Waller doesn't give up the codes. In what I believe was an act of self-sacrifice, Waller refers to Lyla and her top agent allowing Joyner to know that Lyla would have the codes as well… and she would be easier to work with. So her kills Waller instead. I think this whole episode was the Arrow writers getting one last chance to use Waller before she is untouchable because of the Suicide Squad movie. Similar to the way they gave Deadshot a heroic exit last year.
5 – I was questioning not to long ago of Diggle's codename was officially Spartan or was it just something used in the one episode. We found out tonight that it is his codename. We also get a codename for Felicity… Overwatch. When Oliver first uses it he says something to the effect that it was time for her to have a codename and it was originally going to be Oracle but that was already taken. So a nod to some version of the Barbara Gordon character existing in the Arrowverse and an acknowledgement of the on-line commentary that Felicity was going to become Oracle. Overwatch is an interesting choice in the Blizzard, the company behind World of Warcraft, Diablo and Starcraft is launching a whole new game franchise called Overwatch and will be putting out their own graphic novels.
6 – Near the end of the episode Lyla and Oliver share a toast to Waller. Both of them were connected to the former ARGUS head. But what happens next? An organization like ARGUS needs a leader. John didn't want Lyla involved with Waller, not necessarily ARGUS. Now that she is gone, will Lyla go back? If so, what will her role be? This could open up quite a few new storylines.
Now we move from Diggle's past to Felicity's as the Calculator comes to town for two episodes and it is supposed to tie into her father. Is the criminal version of Oracle actually Daddy Smoak?
[youtube]https://youtu.be/bKgtcgYUQ74[/youtube]