Shannon Lee is always self-conscious about how Hollywood depicts depicts her father, Bruce Lee, especially when she isn't consulted like in Quentin Tarantino's Once Upon a Time in Hollywood. Lee spoke with The Wrap about how uneasy she became when audience's laughed at Tarantino's depiction of her father.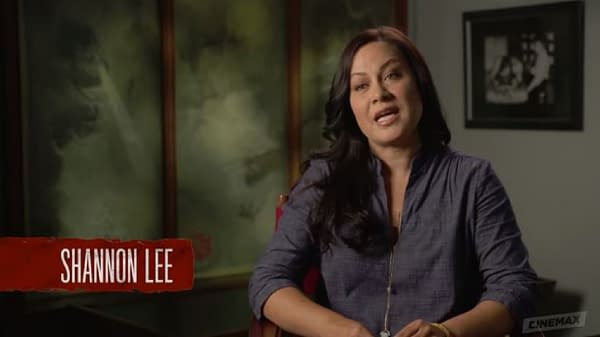 "It was really uncomfortable to sit in the theater and listen to people laugh at my father."
Lee added it was disheartening to see him that way knowing the struggles he had to endure being treated as an equal at a time when racism was grotesquely the norm.
"As an Asian-American in 1960s Hollywood, he had to work much harder to succeed than [Cliff] 'Booth' and 'Rick Dalton'"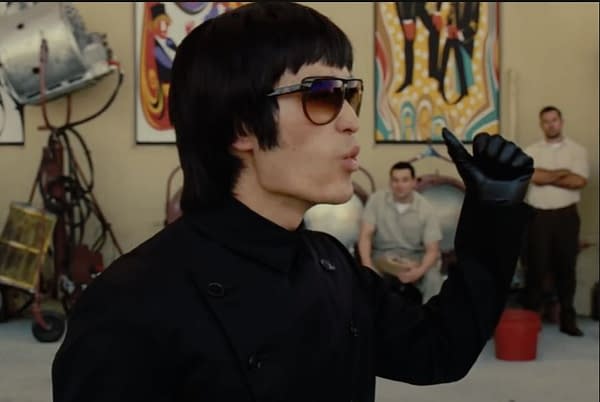 The following contains a minor spoiler for Once Upon a Time in Hollywood.
The scene in question is when Booth (Brad Pitt) spars with Bruce Lee (Mike Moh) spar in a best two out of three. Lee, who's been known to train other fellow celebrities including Sharon Tate (Margot Robbie) and Roman Polanski in real life as depicted in the film, easily gets Booth in the first round. Booth gets Lee in the second round slamming him into a car. The third round never materializes as the fight is interrupted.
"I can understand all the reasoning behind what is portrayed in the movie. I understand that the two characters are antiheroes and this is sort of like a rage fantasy of what would happen… and they're portraying a period of time that clearly had a lot of racism and exclusion. I understand they want to make the Brad Pitt character this super bad-ass who could beat up Bruce Lee. But they didn't need to treat him in the way that white Hollywood did when he was alive."
Lee gave Tarantino some benefit of the doubt his intentions could be to depict how her father was stereotyped.
"It doesn't come across that way. He comes across as an arrogant asshole who was full of hot air and not someone who had to fight triple as hard as any of those people did to accomplish what was naturally given to so many others."
Lee said her father would often try to avoid getting into fights.
"Here, he's the one with all the puffery and he's the one challenging Brad Pitt. Which is not how he was,
Lee is cognizant Tarantino's film is full of caricatures, but actors like Steve McQueen (Damian Lewis) were treated with more dignity and respect. She doesn't even blame Moh and compliments capturing her father's mannerisms and voice.
"But think he was directed to be a caricature," she said.
Matthew Polly who wrote "Bruce Lee: A Life" also took exception to the martial arts legend's depiction calling it an exaggeration to the point of an "SNL caricature." The dialogue used in the film Tarantino had Lee saying claiming he could turn Cassius Clay/Muhammad Ali into a cripple couldn't be further from the truth since Lee revered him and never talked trash to him in real life. Polly said Lee also never used jumping kicks in an actual fight.
"Given how sympathetic Tarantino's portrayal of Steve McQueen, Jay Sebring, and Sharon Tate is, I'm surprised he didn't afford the same courtesy to Lee, the only non-white character in the film. He could have achieved the same effect–using Bruce to make Brad Pitt's character look tough–without the mockery. I suspect the reason Tarantino felt the need to take Bruce down a notch is because Lee's introduction of Eastern martial arts to Hollywood fight choreography represented a threat to the livelihood of old Western stuntmen like Cliff Booth (Brad Pitt), who were often incapable of adapting to a new era, and the film's nostalgic, revisionist sympathies are entirely with the cowboys."
Shannon Lee and Matthew Polly offer unique perspectives in regards to the legacy of Bruce Lee since the fight for respect and equality were a constant struggle long after his passing. As with most depictions on screen, it's difficult to not be corralled into some tokenism, because Bruce was such a rare exception at a time when an industry filled with a blossoming marketplace of ideas ironically became close-minded when it came to who presented those ideas.
It was predominantly White faces fulfilling every major field of representation to the point where they were even filling more ethnic roles. Hollywood is far from perfect and the best we can say is that they're trying. It becomes hard to feel inclusive when the scars run deep. We live in a society where a lack of empathy is deeply rooted.
Shannon is right that there was so much many still don't understand about her father's struggles because it was his alone. At the same time to those who knew him, he did open quite a few ripples in Hollywood and the international stage, because he shared his gifts and those he taught either directly or through his legacy are learning from his example. We must take the good with the bad. It's hard to argue the uphill battle Bruce went through to gain acceptance, but at the same time, he worked hard to gain the acceptance of his peers since the Steve McQueens, James Coburns, Sharon Tates, and Kareem Abdul Jabaars of the world listened to him and became better, because of him.
Once Upon a Time in Hollywood stars Leonardo DiCaprio, Pitt, Robbie, Emile Hirsch, Timothy Olyphant, Margaret Qualley, Dakota Fanning, Bruce Dern, Al Pacino, and Kurt Russell.
Quentin Tarantino's Once Upon a Time… in Hollywood visits 1969 Los Angeles, where everything is changing, as TV star Rick Dalton (Leonardo DiCaprio) and his longtime stunt double Cliff Booth (Brad Pitt) make their way around an industry they hardly recognize anymore. The ninth film from the writer-director features a large ensemble cast and multiple storylines in a tribute to the final moments of Hollywood's golden age.
The film is currently in theaters.
Enjoyed this article? Share it!