Spider-Man: No Way Home: Tom Holland, Zendaya On The Ending [SPOILERS]
We will be talking about significant spoilers for Spider-Man: No Way Home. The movie has only been out two weeks, so we're going to keep trying to hide the spoilers the best we can. If you haven't seen the movie yet, consider this your spoiler warning not to go beyond the following image.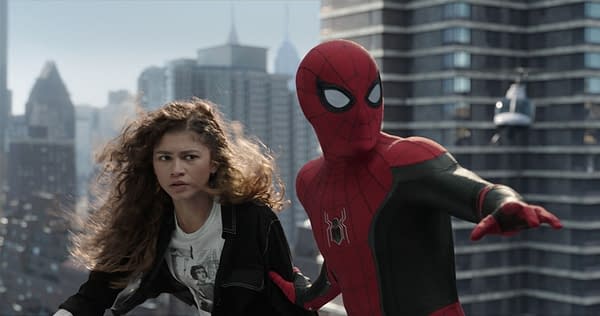 There were many things in the third act of Spider-Man: No Way Home that was quite a gut punch, but one of the hardest came in the final moments. When it became apparent that the only way to save the universe was to cast a spell to make everyone forget that Peter Parker existed, that meant that all of the people that cared about him would forget him; they would have no memory of him. It would be like he ceased to exist. That is quite the sacrifice to make mere hours after Aunt May passes away, but Peter makes it. In the movie's final moments, he finds MJ and Ned but sees that they are going off to college and decides not to tell them despite promising to. He's making the classic Peter Parker sacrifice of people, the people he loves at arm's length, to keep them safe. It's an ending that hurts and also is very true to the mythos of Spider-Man as a character. That didn't make it any easier for the cast, though; stars Tom Holland and Zendaya spoke to Marvel.com about the ending and how much it impacted both of them.
"I actually hate we're in these interviews like, 'This movie's so fun!'" Zendaya explains. "I cried throughout the whole movie. And the first thing I said when we finished was, 'This is awfully sad.'"

"It's brutal," Holland adds. "It's tough. It's bittersweet."

"Is it though? Because it's very much just bitter," Zendaya quips. "Like I'm not getting the sweet part."

Elaborating further, Holland explains that Peter's "starting a new chapter. And he's cleared his name. He's free of all that stuff. And the people that he loves—"

Before Zendaya cuts him off to remind him, technically, at the end of the movie, "He's lost everyone he loves."

Holland then adds, "The people that he loves are safe, and they're alive."

Zendaya reminds him that considering the world they live in is the Marvel Cinematic Universe, "They're never safe!"

"It's very sad, the ending," Holland retorts.
Zendaya goes on to say that she wishes that Peter and MJ could have gone to college, and Holland agreed that he wished the two of them could have had a happy ending in Spider-Man: No Way Home.
"I'm sorry," Zendaya is quick to add, before noting she wanted Peter and MJ "to go to college [together]."

"I wanted them to have a happy ending," Holland adds. But, he knows that's just not in the cards for these two. "We're still here, we're feeling good. We're proud of the movie. It would have been so nice for them to go to college, and just swing off into the sunset. Unfortunately, this is the way it is."
The thing that is rather amusing about the entire "Home" trilogy of Spider-Man movies is that they were essentially a three-movie origin story of getting Peter to the version of him that we so often see in the comics. He's alone, he got his "with great power comes great responsibility" talk, and he's not telling anyone he is Spider-Man to keep them safe. He doesn't have the backing of any Stark tech anymore; he's got a homemade costume, a shit apartment, and his powers. Spider-Man: No Way Home has a sad ending that breaks Peter down to the basics of his character, which means the next group of movies will be interesting to see play out.
Summary: For the first time in the cinematic history of Spider-Man, our friendly neighborhood hero is unmasked and no longer able to separate his normal life from the high-stakes of being a Super Hero. When he asks for help from Doctor Strange, the stakes become even more dangerous, forcing him to discover what it truly means to be Spider-Man.
Spider-Man: No Way Home, directed by Jon Watts, stars Tom Holland, Zendaya, Benedict Cumberbatch, Jacob Batalon, Jon Favreau with Marisa Tomei. It was released on December 17, 2021.