We're getting closer to the home release of the stand alone solo Solo: A Star Wars Story film [yes, any excuse to say Solo solo film], and that means tidbits of behind-the-scenes goodies are making their way online.
Today's BTS offering centers around the surprise appearance of Star Wars red and black baddie Darth Maul, as the string puller of Qi'ra (Emilia Clark) and Dryden Vos (Paul Bettany) as revealed by the film's ending.
These two pieces of concept art show off Ray Park as Maul, with his updated light saber and legs.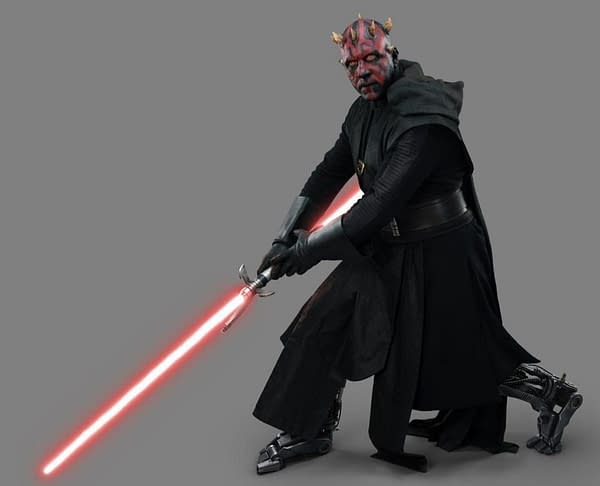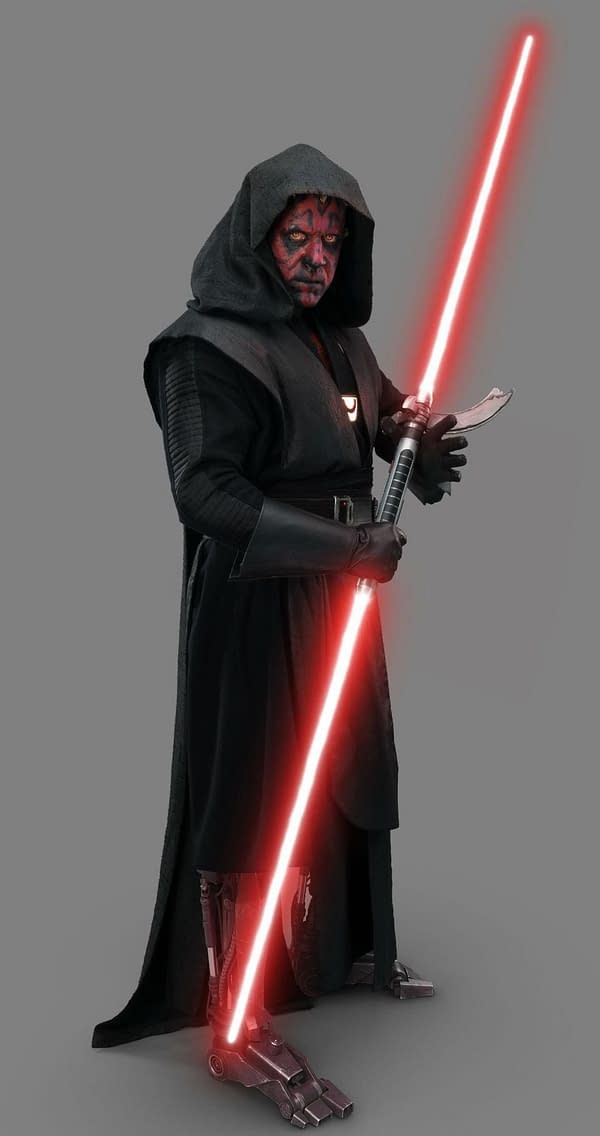 Director Ron Howard spoke to Empire Magazine about the thought process of bringing Maul in for Solo, confirming that it was his idea, and not Lord and Miller who he took over directing from:
"They had a list of a few candidates, and they even talked about just inventing a new gangster boss because there are five Syndicates. I said, 'Maul, what happened to him?' I hadn't seen the animations but I knew more had happened with him. They told me the story and I said, 'Well, wouldn't that be cool?' My 30-year-old son thinks that's the coolest guy, and so I admittedly lobbied. It wasn't entirely my decision but I thought that was a pretty scary way to go and a way to give our third act a nice twist and a jolt of recognition and excitement. The first time I saw it with fans, I saw that it was a good call."
Park commented returning to the Star Wars fold (which he never really left) to Forbes Magazine just yesterday:
"I found out last June/July when we were in Guatemala. I got the phone call from Lynne Hale from Lucasfilm. And it was really nice of her, because she said to me 'Ray, we're just calling to see if you would like to do it.' And I went [inhales slowly] 'Yeah. Do you want me on the plane now?'"
What do you think- were you a fan of Maul's addition to Solo? Would you like to see more Maul in an additional feature film?
Solo: A Star Wars Story releases on Blu-ray[easyazon_link identifier="B07D5QDGQQ" locale="US" tag="bleedingcoo07-20"]Solo: A Star Wars Story [4K] [Blu-ray] [2018] [Region Free][/easyazon_link] and DVD on September 25th, and digitally on the 14th.
Enjoyed this article? Share it!