When it comes to the end of Fantastic Beasts: The Crimes of Grindelwald there are a lot of questions and very little in the way of answers. This might make some fans very annoyed but there is one star who thinks we need to trust J.K. Rowling and that it noted Harry Potter fanboy Ezra Miller. However, the plot point in question is a spoiler so consider this your spoiler warning. If you haven't seen the movie yet might want to skip the rest of this article. .
.
.
.
.
.
.
.
.
.
.
.
.
.
.
.
.
Miller plays Credence Barebone and most of the movie is spent trying to figure out who his family is. The main red herring in the movie is that he's related to the Lestrange's but at the end of the movie Grindelwald reveals that Credance's real name is Aurelius Dumbledore the brother of Albus Dumbledore. Entertainment Weekly spoke to Miller about his reaction to the the big twist.
"I was shocked, stunned, confused, petrificus totalus with wonder and fascination," Miller says. "And I still have a lot of questions for which I have no answers."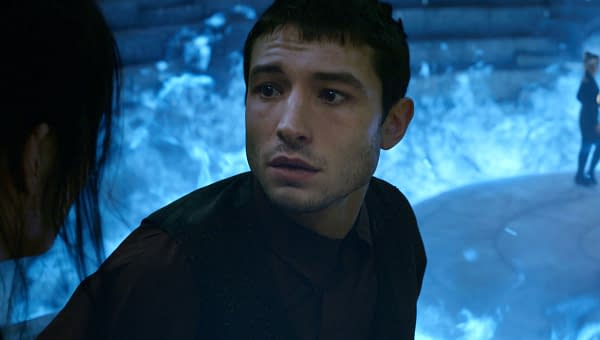 When it came to the performance Miller was asked if he changed it at all once he learned about the reveal. He did but not in any extremely blatant ways and he got to study actors who have previously played members of the Dumbledore family.
"Yes, on a certain, a very, very subtle level," Miller says. "This character is changing, going through physical changes in relation to the Obscurial, [with] which we know he has an unusual relationship. So as he changes, there's an opportunity for me as an actor to look to five of my favorite performances of all time — the people I've seen play Albus and Aberforth. Shout out to all those incredible actors, and I'm thrilled to play the game that we're now blood relations. It's very fun. And there's a funny connection to the name Aurelius given one of the actors who played Dumbledore."
That connection is that the first actor to play Dumbledore, the late Richard Harris, played Marcus Aurelius in Gladiator. As for whether or not Albus knows that he has another brother Miller doesn't have that answer but he does reveal that Jude Law knows but isn't telling.
The reveal has sent some fans off of the deep end since it upends a lot of what is already established in canon and has raised more questions than it answers. Miller, however, believes that Rowling knows what she is doing with this reveal and they should believe that she has a plan.
"Jo's really good at that," Miller said. "She knows the mythology so well and I think she's into confounding you for a moment and having a fan go, 'wait that can't make sense!' and then showing you how things you thought couldn't make sense make sense. I think she enjoys people not getting it for a second. She's done it to us a bunch of times."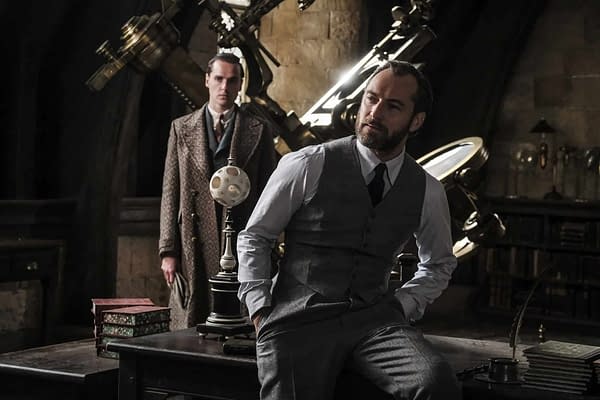 Credance, or Aurelius, has gained a lot more control by the end of the second film compared to the first. He's able to defend himself without killing everyone around him.
"When the Obscurus bursts out [in the first film] it also kills some of his foster siblings, and lots of people presumably got taken out in New York City when it mashed around," he noted. "Here there's one moment where they got attacked and Nagini is safe in that encounter. A tool like that is for focus and direction for preexisting magic. You think of channeling something down the waterways down a branch of wood. It feels like a metaphor for an artist: If you can survive your trauma, and then survive your survival of it, and then you can figure out a means for directing it, that's power unknown on the face of the earth."
Credance and Queenie were two of the main characters that defected to Grindelwald's side by the end of the movie and Miller reveals that him and Alison Sudol are excited about joining the villain's side.
"Alison are I are so excited to be on the ambiguous villains side because the villain on a certain level is always right," Miller said. "The protagonist, on a certain level, has to maintain the status quo. That's why we love villains because they come and try to shake things up. And then it's about restoring the power and potency to doing good. And Jo does incredible work with that. She reminds that what's better than being a violent idiot is being a smart thoughtful caring wonderful human."
When pressed for what their characters are going to get up to Miller had a funny answer but also revealed that he's excited to get a new costume since the villains have better costumes.
"Probably just hang out all the time," Miller said. "Hopefully Antonio the chupacabra — who was treated so foully by our fearless leader and master — has some siblings somewhere. We have a phoenix. We have the Obscurus juice. Plus Grindelwald is one of the most formidable wizards of all time. And we'll get better costumes since we're now on the villains side."
We're a year or two away from finding out more about this reveal and how it's going to impact the canon going forward. It's a little hard to tell whether or not this twist works at the present moment but fan opinion on it seems pretty divided if nothing else.
Summary: The second installment of the 'Fantastic Beasts and Where to Find Them' series, which follows the adventures of Newt Scamander.
Fantastic Beasts: The Crimes of Grindelwald, directed by David Yates, will star Eddie Redmayne, Katherine Waterston, Dan Fogler, Alison Sudol, Ezra Miller, with Jude Law and Johnny Depp. It's out now.
Enjoyed this article? Share it!