Star Wars fans across the galaxy are waiting with bated breath for the opening of Galaxy's Edge, the new themed areas coming to Disneyland and Walt Disney World later this year. We've seen glimpses of the attractions, smatterings of the merch (seriously, clear those cargo bays, you'll want everything), and some teases of the adult beverages (and food) that will be available at Oga's Cantina in the Black Spire Outpost on Batuu.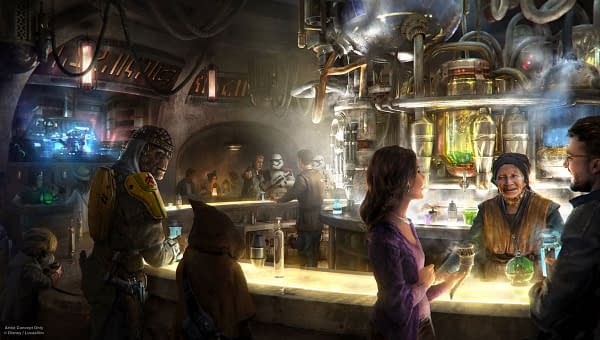 The new Cantina will be the first (and only) place in the main Disneyland (aside from California Adventure) where guests can enjoy libations for 21+, and we are super excited at the newly trademarked names of some of the offerings.
According to Walt Disney World News Today, these trademarks include such things as:
White Wampa Ale
Gamorrean Ale
Gold Squadron Lager
Trandoshan Ale
Spice Runner Hard Cider
Toniray wine
Andoan White wine
Corellian Red wine
Imperial Guard wine
We really love the adorable Gold Squadron Lager name, that's so great! And of course, the Spice Runner Hard Cider and Toniray wine. As WDWNT points out, Toniray wine has an interesting history within Star Wars canon, and this pleases our adopted-Alderaan hearts.
We'll have more to report on Galaxy's Edge from Star Wars Celebration Chicago, as there will be a panel all about the upcoming land during the event next week.
Galaxy's Edge is set to open at Disneyland on May 31st 2019, and Walt Disney World on August 29th.
Enjoyed this article? Share it!