The trailer for Star Wars: The Last Jedi has featured a ton of shots of characters we already know but precious little of the new ones. One of those new characters is Rose Tico played by Kelly Marie Tran. Entertainment Weekly has a new image of Rose and talked to tran about the character.
"Something that I really like about Rose, she's sort of always on a mission. She is a very practical person, she's very pragmatic," says Kelly Marie Tran. "The journey that she and Finn go seems pretty impossible, you can tell in this moment that she's very much aware of the dangers that they are about to face, but she's also logically in her mind problem-solving on the way."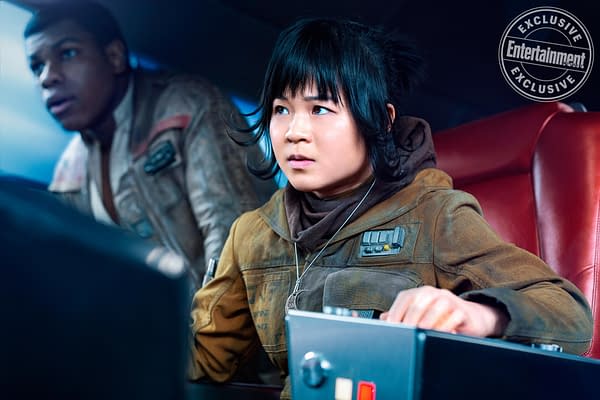 Rose knows how bad things can get and how fast everything can fall apart. She isn't joyless as much as hyper aware of the reality of the First Order.
"She knows exactly, probably, how many things can go wrong in a situation," Tran says.
In the new picture Rose is seen wearing a necklace with a moon on it. Like most things in the Star Wars universe it means something very specific to the character but Tran was unable to explain what that is exactly.
"That is definitely something that is significant to Rose's backstory," Tran reveals. "It is an object that she kind of has throughout the film and it is representative of more than the object itself to her. So, yeah, that's all I can say. It has significance that is, to me, something that means more than just what the object itself is."
It turns out "space jewelry" is a thing we can thank the late, great Carrie Fisher for as director Rian Johnson confirmed on twitter.
In rehearsals Carrie grabbed my arm and told me with great urgency that we needed "space jewelry." I thought that was a fabulous idea. So.

— Rian Johnson (@rianjohnson) November 3, 2017
Summary: Having taken her first steps into a larger world in Star Wars: The Force Awakens (2015), Rey continues her epic journey with Finn, Poe and Luke Skywalker in the next chapter of the saga, Star Wars: The Last Jedi.
Star Wars: The Last Jedi, directed by Rian Johnson, stars Daisy Ridley, John Boyega, Mark Hamill, Oscar Isaac, Carrie Fisher, and Adam Driver. It will be released on December 15th.
Enjoyed this article? Share it!