On The Colbert Report, the show has satirised the encrouching powers of corporations in the USA, including the likes of free speech protection, as the unalienable right for a corporation to be regarded under the law as a person.
And, in typical Colbert fashion, they take this into the real world.
The South Carolina Supreme Court ruled that non-binding referenda attached to the 2012 South Carolina primary should be removed.
Which was unfortunate for The Colbert Report, as one of those non-binding referenda was one they'd manage to raise, asking the citizens of South Carolina to decide wherether Corporations were people, or if only people could be people.
Which is why Stephen Colbert is reaching out to the South Carolina Democratic Party to help restore them.
"Trust me, this was a measure of last resort."
Another quote? "I've always thought Democrats had only one skill: simultaneously being atheists and holier-than-thou. But apparently they also have legal standing in this case."
From the press release;
Colbert has asked Chairman of the South Carolina Democratic Party Richard Harpootlian to petition his state's Supreme Court for a rehearing of their ruling in Buford County v. S.C. Election Commission. He has also asked him if it's alright to call him "Harpootie." Harpootlian has agreed to the first request.
One final joke?
"After the citizens of South Carolina declare once and for all that corporations are people, we can move on to other urgent issues facing our great nation," said Colbert, "In 2016 I hope to include a question on whether Democrats are people."
Here's a sample ballot paper, with question four…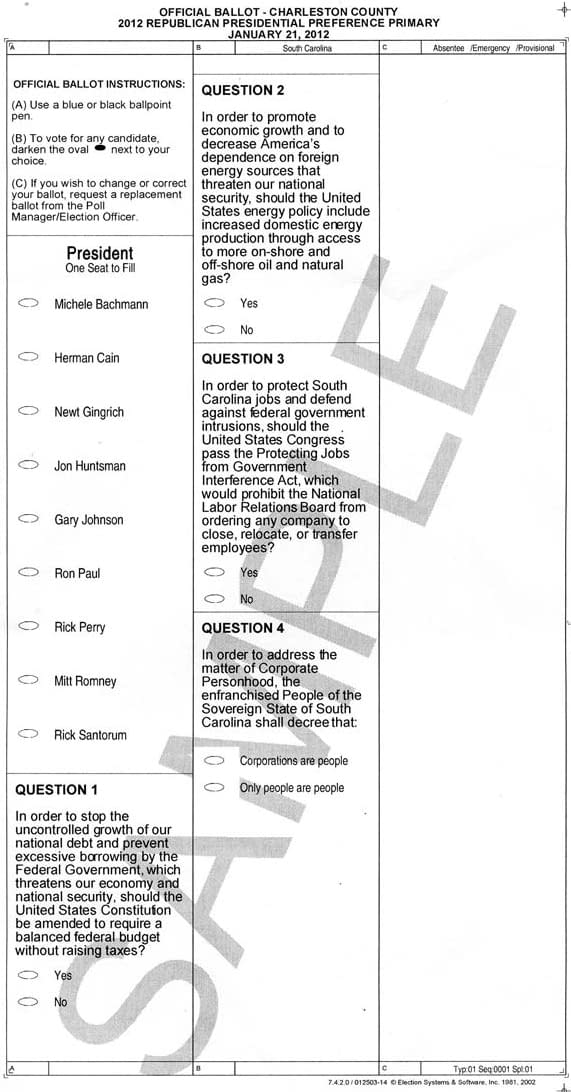 Enjoyed this article? Share it!