The month of March is continuing the rise in activism this year, with March 14th being the date for #NationalWalkoutDay. The protest was organized to commemorate one month since the most recent mass shooting in Parkland, Florida, which ended in 17 deaths.
Some photos of a local walkout, taken by Bleeding Cool's own Lauren Sisselman: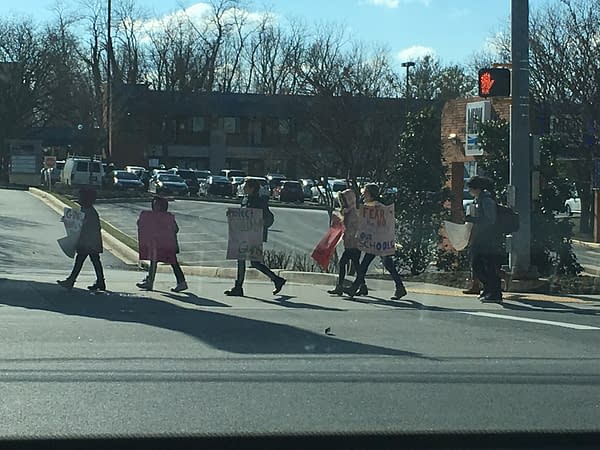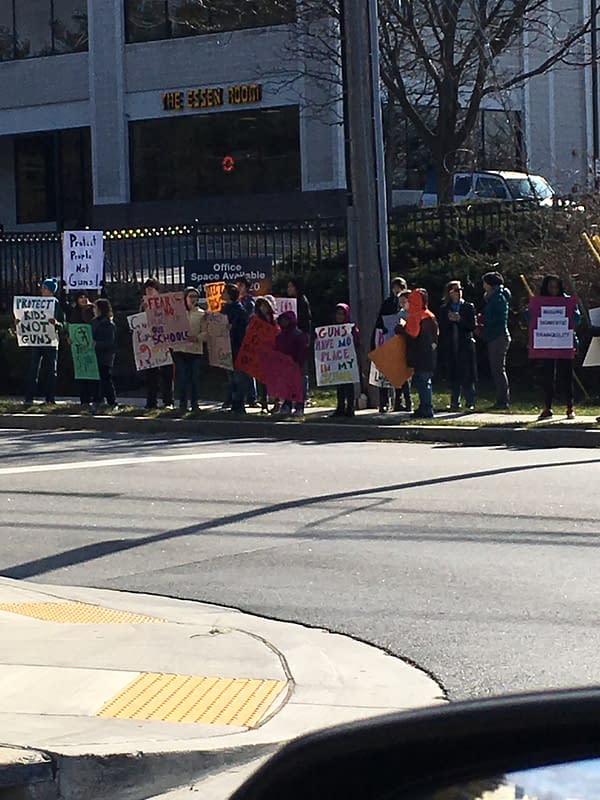 Participants are asked to leave their classes and workplaces for 17 minutes — one minute for each of the lives lost in Florida. The march hopes to raise more visibility and support for changing the current US gun laws — specifically to ban the sales of the assault-style weapons and ammunition clips used in almost all the recent shootings.
Obviously, this school knew how to handle the press:
Covering a walkout this morning at an elementary school in Virginia, and the 11-year-old organizers had a press packet ready for me. pic.twitter.com/eeElhGciid

— Lois Beckett (@loisbeckett) March 14, 2018
The walkout isn't just today, either. Yesterday, the #NotOneMore organization placed 7,000 empty pairs of shoes in front of the Capitol Building in Washington DC — one pair for each life lost since the Sandy Hook shooting in 2012. It's a chilling visual.
2018 will also be the 19-year anniversary of the Columbine shooting, when two troubled young men unleashed terror on their school, claiming the lives of 12 students and 1 teacher.
The month's planned protests will continue with a March for Life on the 24th.
Enjoyed this article? Share it!