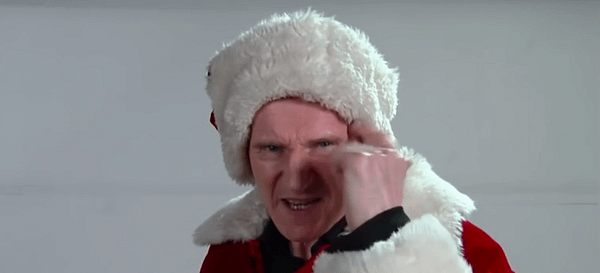 Liam Neeson recently told  Late Show host Stephen Colbert that a fourth movie in the popular franchise wasn't happening, saying, "No, there's not. There's only so many times your daughter can be taken. Actually if we do have another it will be, 'Please can you take my daughter'?" However, in what can only be described as a Christmas miracle, it looks like there's hope for another sequel yet, and Bleeding Cool can EXXXCLUSIVELY reveal the plot details: instead of Neeson's daughter, it will be Christmas itself that's taken hostage, according to a report from… The Pope?!
"Jesus was born rejected by some and regarded by many others with indifference," the Pope said at a Vatican Christmas service last night. "Today also the same indifference can exist, when Christmas becomes a feast where the protagonists are ourselves, rather than Jesus; when the lights of commerce cast the light of God into the shadows; when we are concerned for gifts, but cold toward those who are marginalized."
"This worldliness has taken Christmas hostage," he added. "It needs to be freed."
And who better to free it than Liam Neeson?
Neeson has already started practicing for the role:
As for The Pope, he had an unsurprisingly nonviolent alternative solution to the problem, saying, "Let us also allow ourselves to be challenged by the children of today's world, who are not lying in a cot caressed with the affection of a mother and father, but rather suffer the squalid mangers that devour dignity: hiding underground to escape bombardment, on the pavements of a large city, at the bottom of a boat over-laden with immigrants…"
Blah blah blah blah blah. Sorry to cut this article short, but we just got a new X-Box One S, and we're going to go play with it. Er… merry Christmas everyone!
Enjoyed this article? Share it!