The Cast of the Avengers Get in a Pillow Fight… FOR CHARITY!
Obviously, the news of James Gunn's reinstatement as the director of Guardians of the Galaxy 3 has led to studio hijinks between the cast of The Avengers: Endgame, with Mark Ruffalo stealing ancient relics off of the set: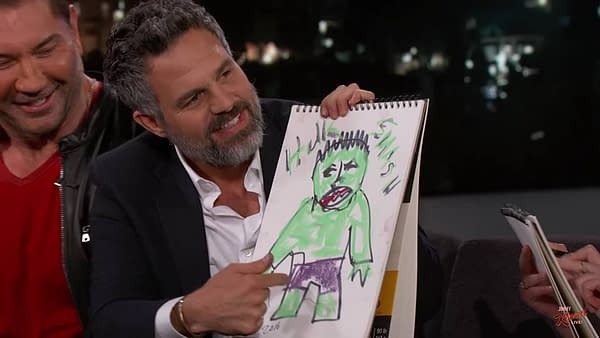 The first question that pops into my head? Is this proof that Mark Ruffalo is worthy enough to wield Thor's uru hammer? Obviously, or he wouldn't have been able to smuggle it off of the set. What happens after someone wins it? How will they find a postal carrier that can deliver it? Can you audition worthy postal carriers?
Then Chris Hemsworth popped in, and it appears Thor is more upset about his missing pillow:
I know about 1,000 thirsty fans that would give a bit of money for Chris Hemsworth's pillow…
But it wasn't Ruffalo! Turns out the true culprit was Jeremy Renner:
Who wouldn't borrow the God of Thunder's toothbrush? All of that pent-up static electricity would probably do a number on plaque!
We're sending our top team of investigators into the field to find more as this story unfolds. Sadly, they are easily distracted by shiny things, so if you see some lost looking people in Bleeding Cool shirts, please send them home.
All joking aside, this is for a pretty good cause. Here's the deets on what Ruffalo's really doing:
We have one very important (and one very big) question for you: Are you ready to hit the red carpet with the Hulk? It's incredible, but true. Mark Ruffalo's bringing YOU to the world premiere of Marvel's Avengers: Endgame! You and a friend will join Mark on the red carpet for some fun, then head into the theater to watch the biggest movie in Marvel history surrounded by the superheroes who made it. Part of the journey is the end… but that was just the beginning! You'll also live it up at the invite-only after-party and go home with Thor's hammer signed by the cast. (Don't worry, you're worthy.) Flights and hotel included!
Still need more info? Check out the Stella Adler Academy of Acting & Theatre:
Stella Adler Academy of Acting & Theatre is a nonprofit arts organization dedicated to uplifting and enriching our collective humanity through the dramatic arts. Driven by the belief that growth as an actor and growth as a person are the same, the Academy & Theatre provide the tools, training, and discipline to nurture and support actors who are committed not only to the art form, but to a life of social engagement. In addition to their teaching center, they offer public programming and extensive community outreach.
If you're interested in helping out, click this link, and good luck!