The Infamous "Zola" Story is Officially a Film Coming to Sundance
If you're wondering why the name Zola sounds familiar, there's a solid chance it's for a very unexpected reason. In 2015 a woman named Aziah Wells (by the nickname Zola) began a Twitter thread in one of the most shocking discussions found on social media. Zola shared a story about a horrible trip to Florida with an exotic dancer and the events that followed went viral for the unexpected nature of her experiences in a way that felt like a true scripted narrative because of its outlandish nature.
At the time, Zola was approached to sell her story with multiple companies showing interest, and now it has been confirmed that her story will be shared soon enough with a debut at Sundance Film Festival. Sundance revealed their feature film lineup with the first official snippet about the film titled Zola as well as the cast and crew behind the project. On the Sundance website we learned:
Zola / U.S.A. (Director: Janicza Bravo, Screenwriters: Janicza Bravo, Jeremy O. Harris, Producers: Christine Vachon, David Hinojosa, Vince Jolivette, Elizabeth Haggard, Dave Franco, Gia Walsh) 2015: @zolarmoon tweets "wanna hear a story about why me & this bitch here fell out???????? It's kind of long but full of suspense." Two girls bond over their "hoeism" and become fast friends. What's supposed to be a trip from Detroit to Florida turns into a weekend from hell. Cast: Taylour Paige, Riley Keough, Nicholas Braun, Colman Domingo. World Premiere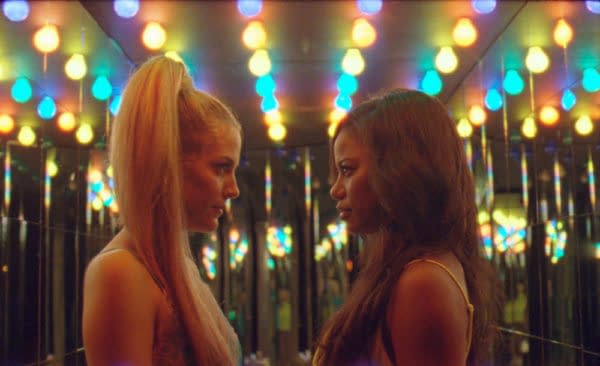 The film initially had a few delays as creatives involved were dropped from the project early on, but the upcoming Zola film is now complete and ready for consumption as one of A24's newest acquisitions. A24 has delivered widely praised films such as Hereditary, Midsommar and Lady Bird, so the company already has established themselves for backing niche films with cult followings. Because of the overwhelming attention the Zola story received, we can only imagine this film will be something audiences will be talking about after it's upcoming Sundance debut.
Are you excited about Zola the movie?