The Jerk is celebrating its 40th anniversary this year, and Shout Select is getting in on the fun by releasing a new editon of the film on Blu-ray. This new release will feature a new 2K scan of the film, and new special features including a brand new sit-down interview with star Steve Martin and the legends Car Reiner. Some previous features will be carried over, but the convo with martin and Reiner will be worth the purchase alone. This is Martin's most famous film (an argument could be made for Father of the Bride, but no), and it is super cool to see it gets some love.
Check out the cover and full disc details below, and place a preorder now right here. The disc releases December 18.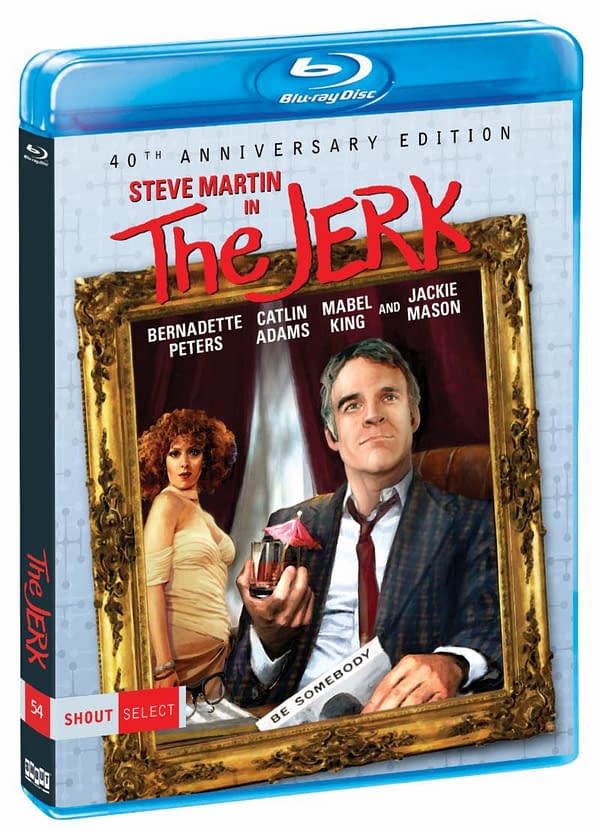 On December 18, 2018, Shout Select celebrates the 40

th

anniversary of wacky comedy classic

The Jerk

with the film's debut on Blu-ray, now remastered from a brand-new 2K scan. This release comes packed with bonus features, including new interviews with Steve Martin and Carl Reiner and with writers Michael Elias and Carl Gottlieb.

From director and comic legend Carl Reiner, The Jerk stars Steve Martin in his feature film debut alongside Bernadette Peters, Rob Reiner, Bill Macy and M. Emmet Walsh. Hailed as one of the funniest movies of all time, the seminal comedy showcases why Martin is one of the greatest comic performers of all time.

Martin stars as Navin Johnson, the adopted son of a poor black sharecropping family in Mississippi. When he learns that the world is a much bigger place than he'd ever imagined, Navin sets out on a quest to find his "special purpose." His adventures lead him to encounter a would-be assassin, jobs in carnivals and gas stations, a life-saving dog, romance with the girl of his dreams and more money than he could ever spend. But his life in the clouds may come crashing down when the source of his new fame and fortune creates disastrous side effects.

Bonus Features:

· NEW Remastered from a Brand-New 2K Transfer

· NEW A Conversation with Steve Martin and Carl Reiner

· NEW A Conversation with Writers Michael Elias and Carl Gottlieb

· Learn How to Play "Tonight You Belong To Me"

· The Lost Film Strips of Father Carols Las Vegas De Cordova

· Trailers & Radio Spots
Enjoyed this article? Share it!