The Moral Debate in Jurassic World: Fallen Kingdom Plus a New Image
A moral debate in a movie about a giant volcano and dinosaurs is not exactly what you'd expect but that's what we're going to get in Jurassic World: Fallen Kingdom according to director J.A. Bayona to USA Today.
"Are we going to let them die or give them the same benefits of all the other species on Earth? That triggers a moral debate," Bayona says.
It's not a Jurassic World movie unless you get to make a few new dinosaurs and one of them is the Indoraptor which we've seen in the shots of a dinosaurs stalking a young girl in her sleep.
"Most children play dinosaurs in their bedrooms," the director adds, "and that was bringing the fantasy to a new level of reality for them."
The new image gives us a new look at the Indoraptor reaching for our young hero in a shot straight out of a kids nightmare.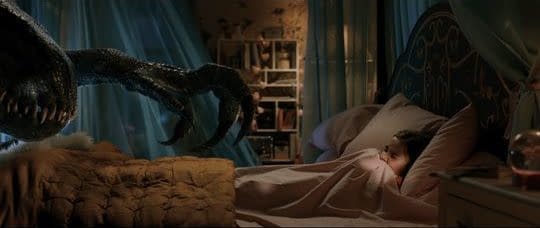 Summary: When the island's dormant volcano begins roaring to life, Owen and Claire mount a campaign to rescue the remaining dinosaurs from this extinction-level event.
Jurassic World: Fallen Kingdom, directed by J.A. Bayona, stars Jeff Goldblum, Chris Pratt, Bryce Dallas Howard, Toby Jones, James Cromwell, Ted Levine, Geraldine Chaplin, Rafe Spall, B.D. Wong, and Justice Smith. It will be released on June 22nd.